More 758 families to get Asrayan houses in Rangpur Wednesday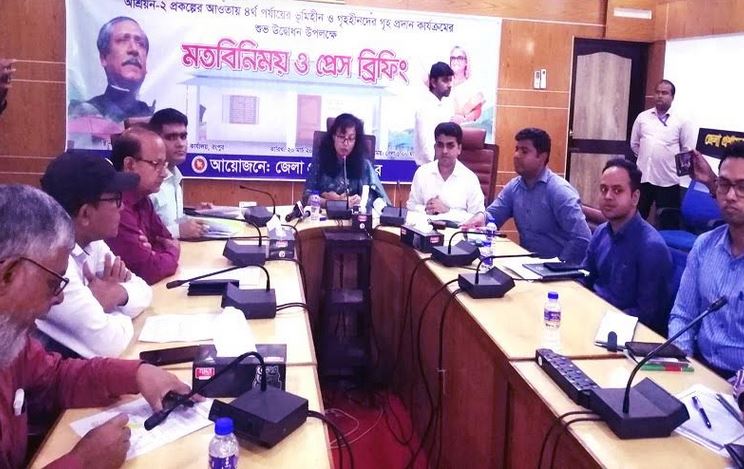 RANGPUR, March 20, 2023 (BSS) - As many as 758 landless and homeless families
will get new houses as gifts from Prime Minister Sheikh Hasina under the
fourth phase of Asrayan-2 project in Rangpur on Wednesday next.
"The Prime Minister will launch distribution of the houses with land
ownership documents and keys to the beneficiary families through a
videoconferencing from Ganabhaban on the day," said Deputy Commissioner Dr
Chitralekha Nazneen.
She disclosed the information while addressing a press conference held at his
conference room in the Collectorate Building in the city this afternoon.
Out of a total of 1,338 houses allocated under the fourth phase of Asrayan-2
project, the Prime Minister will distribute 758 houses to beneficiary
landless and homeless families on March 22 (Wednesday) in the district.

Besides, the other houses allocated under the fourth phase will be
distributed later in the district after completion of ongoing construction
works.

Earlier, 1,273 new houses, 991 new houses and 991 new houses built under the
first, second and third phases of Asrayan-2 project were distributed in three
phases among the homeless and landless families of all eight upazilas in the
Mujib Year in Rangpur.

Under the fourth phase, the climate-resilient colorful houses have been
constructed under a strict monitoring system ensuring quality of works at a
cost of Taka 2,84,500 for each on two decimals of land.

"Asrayan Project, one of the Prime Minister's 10 special initiatives, aims at
ensuring shelter for all homeless people to help them rebuild life, improve
living standard and health care and skill development on income generating
activities," she said.

The government began distributing the brick-built tin-shed semi-pucca houses
among homeless families marking the birth centenary of Father of the Nation
Bangabandhu Sheikh Mujibur Rahman in the Mujib Year to ensure shelters of all
citizens.

"Each of the houses has two bedrooms, veranda, one kitchen and one sanitary
latrine, electricity and pure drinking water facilities," she added.

Different government departments are conducting awareness raising programs
for the rehabilitated families and providing necessary training and
assistance to make them self-reliant through income-generating activities in
the Asrayan projects.

"Rehabilitation of homeless and landless people in newly-built houses will
continue until every family receives their own house with land ownership
documents in the process of building a smart and developed Bangladesh leaving
no one behind," the DC added.
Additional Deputy Commissioner (Revenue) Md. Rezaul Karim, Revenue Deputy
Collector Md Aminul Islam, Assistant Commissioners Md Nazmul Hasan and Farhan
Labib Jisan and other officials attended the event.