Film society will contribute to reach country to cherished destination: Hasan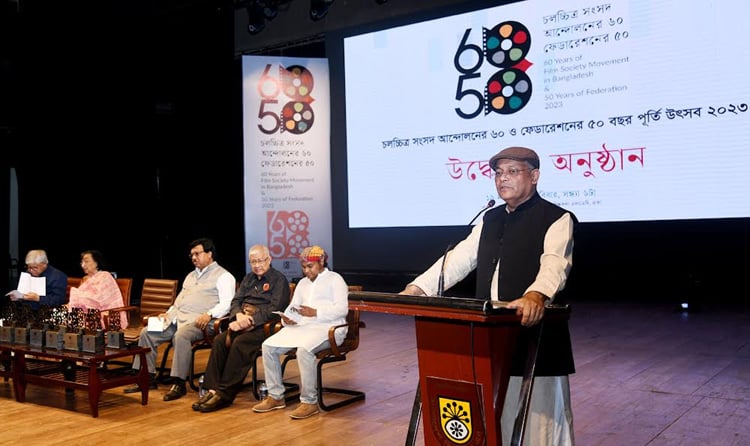 DHAKA, March 19, 2023 (BSS) - Information and Broadcasting Minister Dr Hasan Mahmud today hoped that the country's film will play an important role to reach the country to the destination envisaged by Bangabandhu and freedom fighters and film society will play a leading role there.
He expressed the hope while addressing, as the chief guest, the inaugural ceremony of a yearlong programme marking the 60 years of film society movement in Bangladesh (Bangladesh Chalachchitro Sangsad Andolan) and 50th anniversary of Federation of Film Societies of Bangladesh at Natyashala auditorium of Shilpakala Academy in the city's Segunbagicha area.
Hasan, also Awami League joint general secretary, said film industry started journey in Bangladesh at the hand s of Father of the Nation Bangabandhu Sheikh Mujibur Rahman with the foundation of Film Development Corporation in 1957 in Dhaka.
In course of time, under the leadership of Bangabandhu's daughter Prime Minister Sheikh Hasina, the country's film is making a turnaround nowadays.
"Our many films won many international awards. In the last year, in Bangladesh Film Festival in Kolkata, people stood in one kilometer long queue from 9am to watch our (Bangladeshi) movie at 1pm," he said.
The minister said the cinema halls which were shut down are now being reopened and the number of Cineplex is also increasing.
Taka 1,000 crore soft-loan refinancing fund has been formed for the renovation and modernisation of cinema halls across the country, he mentioned.
Cinema industry could go ahead further if everything didn't get stuck due to Covid-19, he said.
Hasan hoped that the film industry will reach a further strong position in the next one year and the films will get accolades at international arena crossing the boundary of the country.
Quoting film maker Morshedul Islam, the minister said: "He spoke rightly that film movement is not a movement of streets. Rather it is a movement to take ahead the film industry".
He underscored the need for making a nationwide cultural movement to guide the youth on a superstation-free path.
In the function, Bangladesh Chalachchitro Sangsad was given the diamond honor and 14 other Sangsad golden honor as the best film societies in six decades among more than 100 societies for making special contributions to film arena.
Federation of Film Societies of Bangladesh President Lailun Nahar Shemi chaired the function while film director Salahuddin Zaki joined it as the special guest while Shilpakala Academy Director General Liaquat Ali Lucky as guest of honor.
Convener of the national committee to celebrate the anniversary and
Filmmaker Morshedul Islam and Federation's General Secretary Belayet Hossain Mamun also spoke.
The programme began with lighting of 'Mongol Pradip' and the musical performance of leading band 'Joler Gan'.
The yearlong programme will include festival of films produced by film society members, policymaking seminar, international seminar, film workshop at 10 districts, producing of documentary on film society movement and festival of selected best films of the 50 years and publication of commemorative book and river cruise.
Film Society Movement in Bangladesh began its journey in 1963. It has been contributing to the expansion of film education and film literature in the country.
On October 24 in 1973, Federation of Film Societies of Bangladesh was established. First president of the federation was filmmaker eminent film director Alamgir Kabir.