Revolution takes place in ICT sector in Bangladesh: Speaker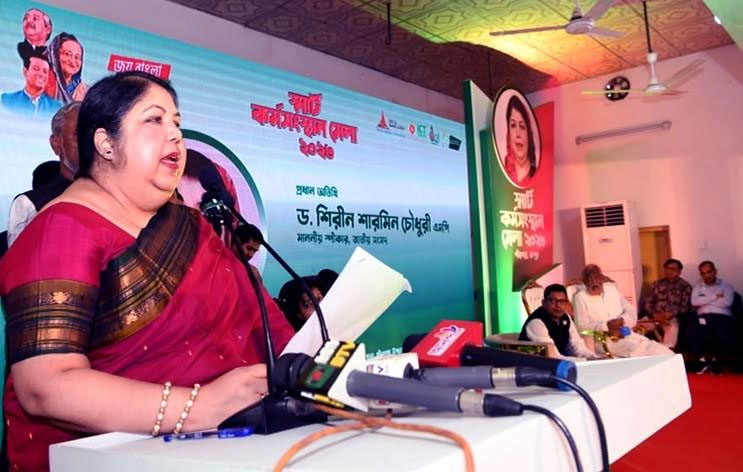 RANGPUR, March 19, 2023 (BSS) - Jatiya Sangsad Speaker Dr. Shirin Sharmin Chaudhury today said a revolution has taken place in the information and communication technology (ICT) sector creating ample opportunities for educated youths in Bangladesh.

"Currently, the country is earning 1.50 billion US dollars annually and the architect of Digital Bangladesh, who is a brilliant son of this soil, Sajeeb Wazed Joy is planning to raise the income to five billion US dollars by 2025 next," she said.

The Speaker said this while addressing the 'Smart Employment Fair' organized for educated male and female youths who are interested in building a career in the ICT sector at Pirganj upazila parishad auditorium here as the chief guest.

State Minister for Information and Communication Technology (ICT) Division Zunaid Ahmed Palak, MP, spoke as the special guest.

Dr. Shirin said Prime Minister Sheikh Hasina, the able daughter of Father of the Nation Bangabandhu Sheikh Mujibur Rahman, started the program of Digital Bangladesh in 2009.

Development in the ICT sector has effectively played a major role in Bangladesh's journey from a low-income country to a developing country.

"Under the guidance of Prime Minister Sheikh Hasina, her ICT Affairs Adviser Sajeeb Wazed Joy is working relentlessly and he has set a target to make the country developed and smart and the people as IT skilled human resources by 2041," she said.

State Minister Zunaid Ahmed Palak said Sajeeb Wazed Joy is the architect of Digital Bangladesh.

Following digitisation in the country, 12 crore people are now able to transact through digital channels and Sajeeb Wazed Joy wants to transform Bangladesh into a country of cashless transactions.

"Meanwhile, Speaker Dr. Shirin Sharmin Chaudhury has invented the concept of smart employment fair. The Awami League government is determined to end unemployment in the country by promoting freelancing and e-commerce,' Palak said.

On the occasion, a video 'Digital Bangladesh Amar, Smart Bangladesh' on the achievements and future plans of the government was screened and laptops were given to 10 people for achieving skills in freelancing and 20 smart women were given a cheque of Taka 50,000 each.

In addition, triumphant freelance entrepreneurs Noor Tajkia, Mehedi Hasan, Md. Sultana Begum and Md. Arifuzzaman Moon narrated their stories of success in freelancing at the event.

Chaired by Deputy Commissioner Dr. Chitralekha Nazneen, Kazi Tarana and Harunur Rashid moderated the whole function.

Pirganj Upazila Parishad Chairman Nur Mohammad Mondal, Acting President of Pirganj Upazila Awami League Professor Nurul Amin Raja, Superintendent of Police Md. Ferdous Ali Chowdhury, Upazila Awami League General Secretary and Pirganj Municipal Mayor Tajimul Islam Shamim, Humayun Kabir, Project Director of the Learning and Earning Project and Deputy Secretary Md. Humayun Kobir also spoke.

Pirganj Upazila Nirbahi Officer Biroda Rani Roy, leaders of local Awami League and its associate bodies, dignitaries and media workers were present in the ceremony.