Outgoing Sri Lankan envoy calls on President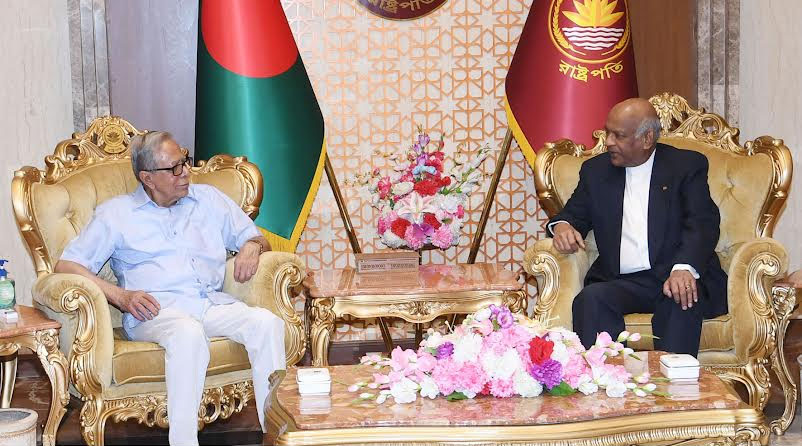 DHAKA, March 19, 2023 (BSS) - Sri Lankan High Commissioner in Dhaka Prof Sudharshan DS Seneviratne paid a farewell call on President M Abdul Hamid at Bangabhaban here this evening.
During the meeting, the outgoing envoy expressed his gratitude to the President for his cooperation in fulfilling his (envoy) assignment here, President's press secretary Md Joynal Abedin briefed newsmen later.
Referring to Bangladesh's long-standing bilateral ties with Sri Lanka, the President said there is an ample opportunity to strengthen the existing relations between Bangladesh and Sri Lanka in various fields, including tourism, blue economy potentials trade and investment.
The Head of the State put emphasis on visit-exchange at both the public and private levels to utilize the potentials of the two countries.
President Hamid thanked the Sri Lankan government and its people for their heartfelt cooperation in the Rohingya issue.
The President also thanked the outgoing Sri Lankan envoy for successfully fulfilling his duties in Dhaka.
The high commissioner said Bangladesh has a huge potential in blue economy sector in the Bay of Bengal.
Moreover, there are huge opportunities to work jointly for the win-win development of blue economy sector, he added.
The high commissioner also invited Bangladeshi investors to invest in tourism, agriculture, shipping and logistic sector in Sri Lanka.
President's Office Secretary Sampad Barua, Military Secretary Major General SM Salahuddin Islam, and Secretary (attached) Md Wahidul Islam Khan were also present.