Inclusive society needed to build smart Bangladesh: Palak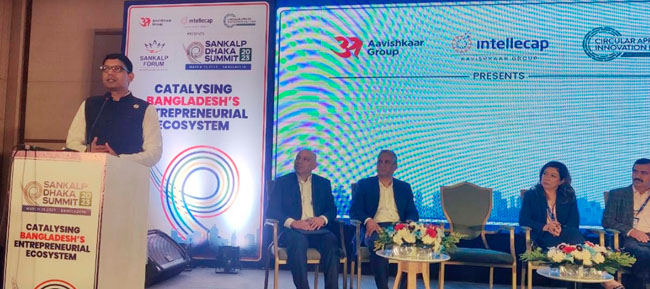 DHAKA, March 19, 2023, (BSS) - State Minister for ICT Division Zunaid Ahmed Palak today said an inclusive society will have to build based on innovative solutions focused on bringing positive impact on the economy and environment instead of looking at a profit to build "Smart Bangladesh".

"Instead of looking at instant profit, something should be invented with innovative solutions that will have a positive impact on the economy and the environment", Palak said while addressing as the chief guest at the inaugural ceremony of 'Sankalp Dhaka Summit' at a city hotel today.

The state minister said everyone should build such an inclusive society and country, through which an innovative Smart Bangladesh will be developed.

"Under the bold leadership of Prime Minister Sheikh Hasina, our main goal is to create job opportunities for the youths", he said, adding, "13,000 Sheikh Russell Digital Labs, 300 Schools of Future have been established in the country to build innovation, entrepreneurship and start-up ecosystem."

Palak said business incubation centres are being set up in the universities of the country. Besides, 12 knowledge parks will be established in the country's universities or nearby areas, he added.

Former Ambassador of India Gurujit Singh, Intellecap Managing Director Jayesh Bhatia, ABFRL CSO Naresh Tyagi, UCBL Managing Director Md Arif Quadri, SBK Managing Director Sonia Bashir Kabir, Startup Bangladesh Managing Director Sami Ahmed were present on the occasion, among others.