Govt evaluates eminent persons irrespective of party affiliations: Hasan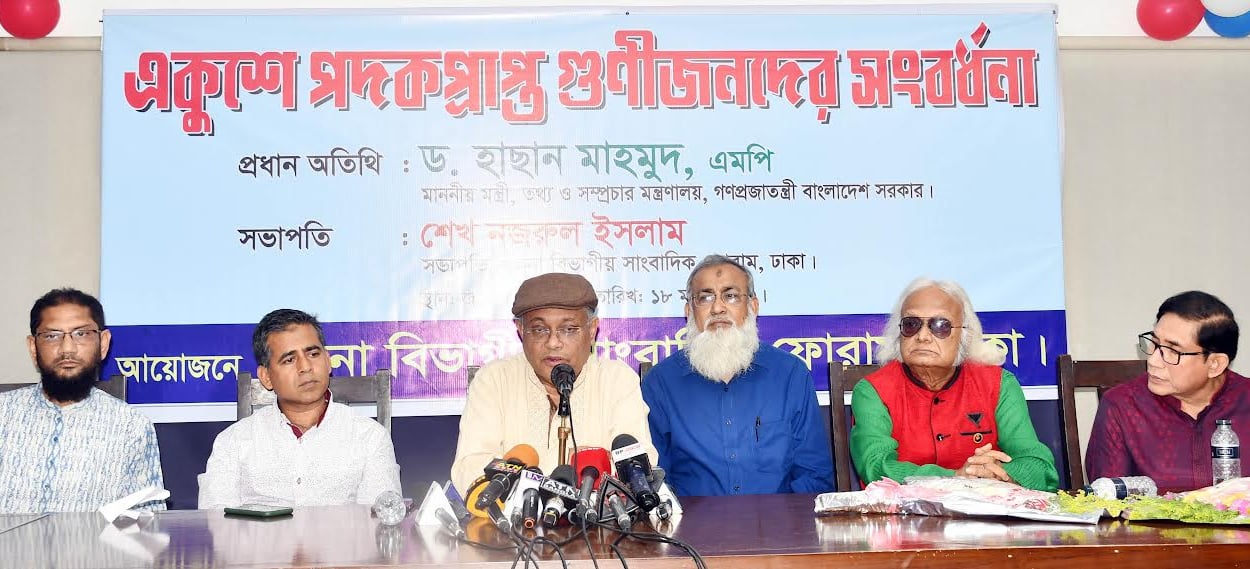 DHAKA, March 18, 2023 (BSS) - Information and Broadcasting Minister Dr Hasan Mahmud today said the incumbent government evaluates all eminent persons irrespective of party affiliations.
"In awarding Swadhinata Padak or Ekushey Padak or any other state honour, the government is evaluating those who have genuine contributions to state, society and country so that the talented persons of the society are getting encouragement," he said.
Hasan, also Awami League joint general secretary, said these while addressing as the chief guest a reception ceremony of four Ekushey Padak recipients of Khulna division in Mawlana Mohammad Akram Khan auditorium of Jatiya Press Club here.
Khulna Divisional Journalists Forum, Dhaka arranged the function.
Extending congratulations to the four eminent personalities, the minister said if talented persons are not given due honor, eminent persons will not create in the country.
"Our main target is to build a welfare state. Eminent persons should be given proper honor to make sustainable development," he said.
Khulna Divisional Journalists Forum, Dhaka President Sheikh Nazrul Islam said: "We are feeling honored by giving due honor to eminent persons of Khulna."
Organization's General Secretary Rizvi Newaz said their organization will take more initiative in future to give honor to eminent persons.
The minister handed over crests to Ekushey Pakad recipients of this year- Swadhin Bangla Betar Kendra singer Manoranjan Ghoshal, flute player Gazi Abdul Hakim and family members of late lawyer and politician Manzurul Imam, who was killed by assailants in 2003, and recitation artiste and actor Jayanto Chattopadhyay.