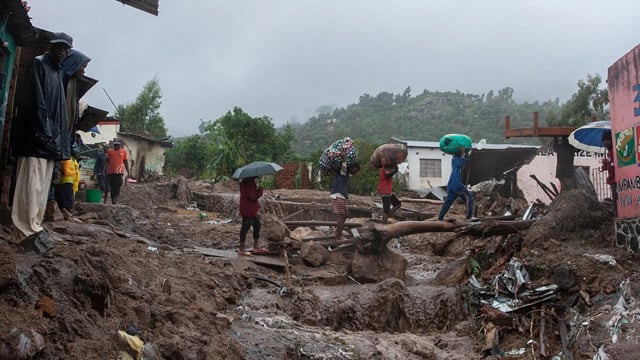 BLANTYRE, Malawi, March 16, 2023 (BSS/AFP) - Malawi's president appealed Wednesday for global support to tackle "a national tragedy" after Cyclone Freddy pummelled the southeast African nation, causing flooding and mudslides that have killed hundreds.
The storm returned to the African coast at the weekend for a second time in less than three weeks, leaving a trail of death and destruction, but it had largely spared Malawi the first time around.
"The level of devastation we are dealing with here is greater than the resources we have at our disposal," President Lazarus Chakwera said in declaring two weeks of national mourning.
The government has promised 1.6 billion kwacha ($1.5 million) to assist the tens of thousands of Malawians affected by the storm, which authorities say has killed at least 225 in the country and wounded hundreds.
Rescuers scrambled to reach survivors in southern parts of Malawi, mostly around the commercial capital of Blantyre, after Freddy smashed into the country and neighbouring Mozambique, triggering floods and landslides that have killed nearly 290 people in both countries.
The cyclone began to fade Wednesday after travelling 8,000 kilometres (5,000 miles) across the Indian Ocean, before looping back over ocean and then reversing course to strike Africa a second time, setting an unofficial record as the world's longest tropical storm.
Chakwera said Freddy was the third storm to "assault" Malawi in 13 months, calling it "a testament to the realities of climate change".
After visiting some of the affected areas, he said the damage and the plight of the victims were "far worse than the images and footage we have been seeing".
The president also attended a funeral ceremony for some of the victims in the Blantyre township of Chilobwe.
"This is a national tragedy," Chakwera, wearing a raincoat and rubber boots, told mourners at a service held at a primary school where 21 coffins, some decked with little more than simple wreaths, were lined up under a tent.
In a national address, he said the sight of the coffins "laid side-by-side, including several from the same family, was nothing short of heartbreaking".
- 'You can't even mourn' -
Weather conditions were expected to improve as the storm dissipated after days of torrential rains, but localised thunderstorms would persist, Malawian forecasters said.
Flood levels remained high in several areas, hampering emergency efforts.
In Mozambique, the storm led to 63 deaths and displaced 49,000 people according to official statistics.
President Filipe Nyusi appealed for aid to rebuild destroyed infrastructure, in an address to the nation Wednesday night.
In Malawi, the army and police were leading search and rescue operations, which are set to continue for at least two more days.
Many people perished in landslides that swept away flimsy homes built on slopes.
"Four people from my family are still missing as they are buried in the mud," Alabu Wiseman, 24, said from a Blantyre school serving as a temporary shelter.
Across the country, more than 88,000 people have been displaced, with many sheltering in 165 temporary camps.
Some people complained that government assistance had been slow in coming.
"We feel abandoned," said Fadila Njolomole, 19. "My best friend, her brother, sister and mother, went with the mudslide and their bodies have not been found. It's devastating. You can't even mourn."
The impoverished country is already grappling with the deadliest cholera outbreak in its history, which has killed more than 1,600 people since last year.
- Record breaker -
The storm has unofficially broken the World Meteorological Organization's benchmark as the longest tropical cyclone on record, set in 1994 for a 31-day storm named John.
Freddy became a named storm on February 6, making landfall in Madagascar on February 21 and sweeping over the island before reaching Mozambique on February 24.
It then returned to the Indian Ocean and gathered new force over the warm waters, then reversed course to come back much more powerful, packing wind gusts of up to 200 kilometres per hour (125 mph).
Cyclones tracking across the entire Indian Ocean are very infrequent, meteorologists say, with the last occurring in 2000.