Around 47,000 tonnes sweet potato produced in Rajshahi division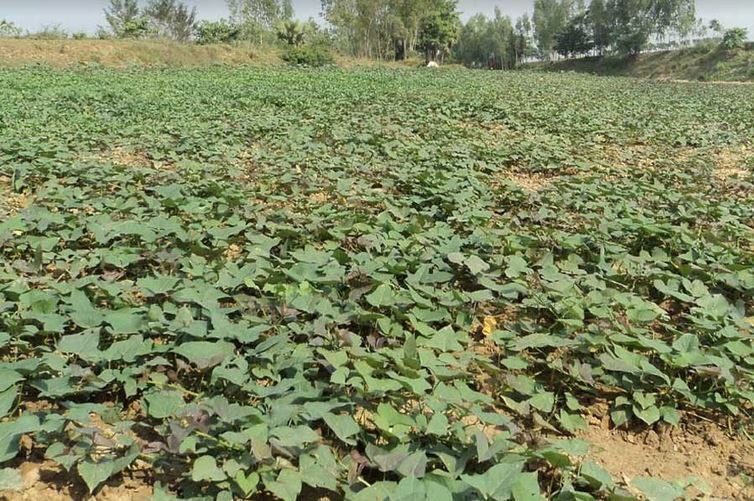 RAJSHAHI, March 15, 2023 (BSS) - Around 47,000 tonnes of sweet potatoes were produced from 2,700 hectares of land in all eight districts under Rajshahi division during the current harvesting season, officials said.
According to the latest official data, 11,000 tonnes were harvested from 675 hectares of land in four districts under Rajshahi Agricultural Zone, while 36,000 tonnes from 2,025 hectares of land in four other districts in Bogura Agricultural Zone.
The newly-harvested sweet potatoes are playing a supplementary role of meeting up food and nutritional demands as well as food security.
The Department of Agricultural Extension (DAE) has set the target of bringing 2,678 hectares of land under the cash crop farming in the division.
But, amazingly, the farmers cultivated the sweet potato on 2,700 hectares during the last Rabi season meaning that demand for the crop is increasing among consumers in general.
Production target per hectare had been set to 18.62 tonnes this year, said Shamsul Wadud, additional director of the DAE, Rajshahi.
Many of the farmers particularly in the char (riverbed) areas have become happy over the sweet potato farming and its yield in the region at present.
The seasonal crop is cultivated abundantly in char areas of the region as farmers show their interest for a higher demand of the crop with good market price.
Mehedi Hassan, 46, a farmer of Chalk Rajapur village under Bagha Upazila, said he has harvested 250 mounds of sweet potato from one acre of land this year. He is selling the crop at Taka 400-600 per mound.
Mokarram Hossain, another farmer of Char Mazar Diar village in Paba upazila, said he has cultivated the crop on three bighas of land this season by spending around Taka 5,500.
He is now happy over the current market price. Sweet potato is being sold at Taka 550 to 600 per mound at local wholesale markets on an average while the retail price is Taka 25 to 30 per kilogram (KG).

Hossain said low production cost and easy cultivation process made growers interested in its cultivation and for this reason its cultivation has increased considerably in char areas of the region.
Faruque Hossain, one more grower of Saheb Nagar in Godagari upazila, said he had brought three and half bighas of land under the crop cultivation this season and he has earned Taka 15,000 from the sale of the produce through cultivating the crop on two and half bighas of land last year.
He said sandy char lands are very suitable for the cultivation of the crop. A farmer can produce 65-70 maunds of sweet potato on per bigha of land and per maund sweet potato can be sold between Taka 750 to Taka 900.
"Its cultivation cost is also very low as it needs less fertiliser and irrigation," he said adding that only Taka 6,500 to Taka 7000 is required for the cultivation of the crop for one bigha of land.
Mozder Hossain, Deputy Director of DAE, told BSS that the sandy lands and the riverbeds are suitable for sweet potato cultivation. So, people of the Ganges and Brahmaputra basins and the remote char areas are habituated in farming widely besides consuming it, he said.
He said the nutritive value of the crop is similar to rice and its taste is delicious though its production cost is very low.
Sweet potato contains vitamin-A and C and expected mineral elements which are absent in rice. It is also enriched with protein, carbohydrate, calcium, iron, carotene and vitamin B1 and B2, which are essential for the human body.
An adult person needs 13 grams vitamin-A per day that can be fulfilled after consuming only a single sweet potato.
Hossain mentioned that people of the Philippines and Papua New Guinea consume sweet potato as an alternative to rice while in the USA and Japan it is used as food widely.
He also opined that different types of tasty foods like halua, payesh, bread, pauruti, biscuit, pastry and cake could be made through processing the indigenous potato.
Dependence on rice can be reduced to a greater extent if people were habituated to consuming sweet potato, he added.