KU observes Katka tragedy day today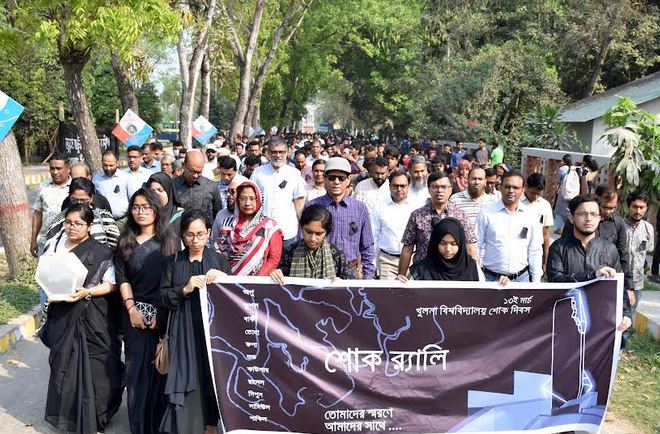 KHULNA, March 13, 2023 (BSS)-The teachers, students, officials and employees of Khulna University (KU) today observed the 'Katka Tragedy Day' through various programmes.
The KU authorities observe the day-March 13, every year as a mourning day and pays homage to11 students who were drowned in the sea near Katka area of the Sundarbans in 2004.
Programmes of the day were including wearing of black badges at 9:00 am, mourning procession round the campus from university Shaheed Minar at 9:15 am, laying of wreaths at Katka Memorial on the campus, milad mehfil after Zohar prayers at the university mosque, feeding of the destitute at 2:00 pm, condolence meeting at 6:30 pm, candle lighting at 7:00 pm and screening of a documentary film show at 7:30 pm.
KU teachers association, officers' welfare association, Architecture Discipline and other organizations have also paid homage at Katka memorial.
Pro-vice Chancellor of Khulna University Professor Dr Hosneara led the mourning procession. Treasurer, Deans and Heads of various Disciplines attended the event.
Later, a discussion was held at the Katka Memorial with head of architecture discipline professor Dr Sirajul Islam in the chair. Pro-VC Dr Hosne Ara, Treasurer Dr Amit Roy Chowdhury, among others, addressed.
On March 13, 2004, nine final year students of the Architecture department of Khulna University and two students of Mechanical department of Bangladesh University of Engineering and Technology (BUET),were swept away by powerful current while bathing in the sea near Katka of the Sundarbans.
The 11students went to the Sundarbans for sightseeing and to join a picnic. The victims are Arnaj Rifat Rupa, Kauser Ahmed Khan, Ashrafuzzaman Toha, Kazi Abdul Muyeed bin Walid, Munadil Raihan bin Mahbub, Abdullah-hel-Baki, Maksumul Aziz Mostaji Nipun, Touhidul Enam Opu, Mahmudur Rahman Russel of Khulna University while Samiul Hasan Khan and Shamsul Arefin Shakil of the BUET.