Japan eases mask guidelines, but few are keen to change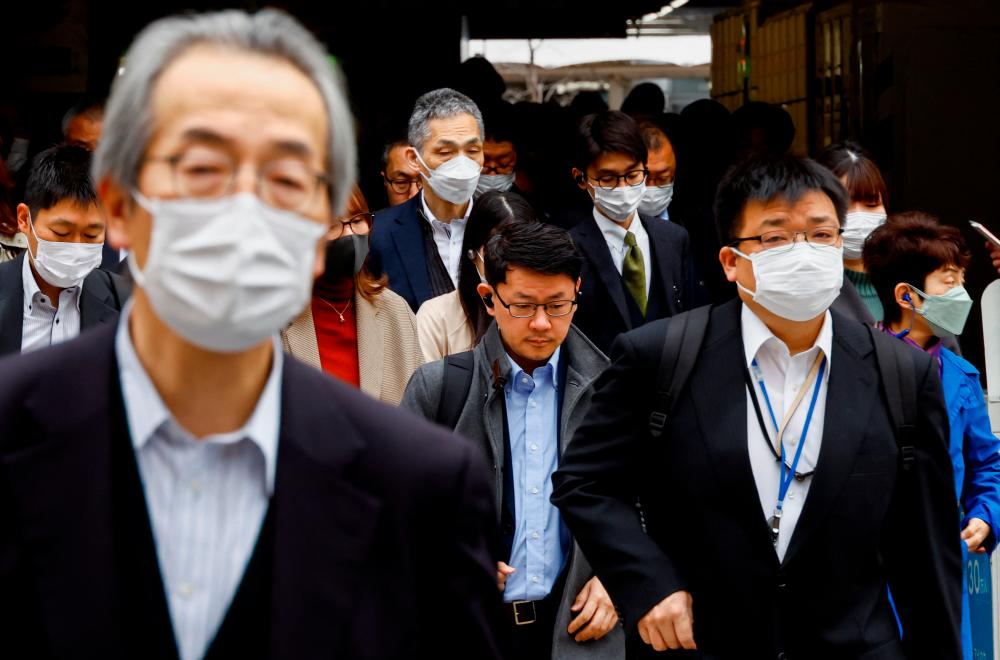 TOKYO, March 13, 2023 (BSS/AFP) - Japan's government eased its mask guidelines on Monday, recommending them only on crowded trains and in hospitals or care homes, but there was little sign residents were keen to unmask.
Japan has never had a mask mandate, but residents have adhered to guidelines to wear them indoors and outside from the early days of the pandemic, and masks were common even pre-Covid during cold and hayfever seasons.
The country is one of the last places in Asia to end nationwide masking recommendations, and on Monday morning most commuters kept their faces covered, on trains and outdoors.
"I think I'll keep wearing a mask for the moment," 46-year-old Tatsuhiko Ohashi told AFP on his way to work, outside Tokyo's busy Shinagawa station.
He still had "a bit of fear" of Covid and worried that getting infected unknowingly would "risk inconveniencing people around me".
Japan avoided lockdowns and other harsh restrictions during the pandemic but still fared better than many countries, with 73,199 deaths in a population of more than 125 million.
Some observers have credited masks and other voluntary measures, along with strict border closures, with that relative success.
But the government has been keen to gradually return to normal, reopening the borders and seeking to stimulate the economy.
There were just over 7,000 Covid cases reported nationwide on Sunday, and businesses have largely said they will leave it up to customers to decide whether to mask -- though staff will continue to wear them.
- 'Bit by bit' -
Hajime Yamaguchi, a professor of psychology at J.F. Oberlin University in Tokyo, said it was unlikely many Japanese would unmask quickly.
"The Japanese worry a lot about what other people think and fear being judged if they're the first to take off their masks," he told AFP.
"They will watch to see what other people do and unmask bit by bit," he added, noting that this year's particularly bad pollen season made it likely masks would be around until at least May.
Half of the people surveyed in February by national broadcaster NHK said they would continue to wear a mask even after the recommendations eased, while 38 percent said they expected to remove them more often.
"A lot of people have started to feel more comfortable behind a mask, realising how reassuring it is to communicate without revealing your face," said Yamaguchi.
Still, there were a handful of commuters embracing the new rules, including 49-year-old Hiromi Mitsui.
"If it's not an obligation, then there's no problem in taking off the mask, it's freedom of the individual," he said.
"Those who want to wear it can do so, and others don't have to. If we respect one another, there's no problem."
Prime Minister Fumio Kishida also arrived at work on Monday morning without a mask for the first time.
His government plans to downgrade the classification of Covid to the same level as the flu from early May.