Save wildlife to protect human civilisation: Shahab Uddin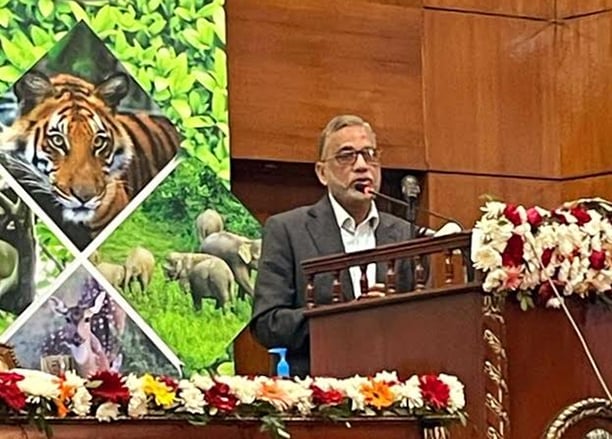 DHAKA, March 5, 2023 (BSS) - Environment, Forest and Climate Change Minister Md Shahab Uddin today stressed the need for taking integrated initiatives to conserve wildlife and biodiversity, calling upon all to work together to save wildlife.
"If forests and wildlife are put in danger, the human civilization will be in peril. So, forests and wildlife must be conserved to save human civilisation," he said.
The environment minister was addressing a discussion organised at the Forest Department here, marking the World Wildlife Day-2023.
Speaking as the chief guest, Shahab Uddin said there is no alternative to everyone's participation in effective implementation of wildlife conservation programmes.
He said the government is implementing various programmes for wildlife conservation.
According to the Article 18 A of the Constitution, the Wildlife (Conservation and Security) Act, 2012 and Bangladesh Biodiversity Act, 2017 were enacted, he said.
Shahab Uddin said the government has declared 24 wildlife sanctuaries, 19 national parks, two special biodiversity conservation areas, three marine protected areas, one botanical garden, three eco-parks and two vulture safe areas in the country.
Besides, he said, there are two Ramsar sites and six flyway sites in the country.
Funds have been provided for wildlife related research through SUFAL project, he said, adding that preparation of an action plan for the conservation of shark and ray species found in Bangladesh and preparation of non-detriment findings to control the trade of sharks and rays are at final stage.

'Red List of Bangladesh 2015' has been prepared to know the number of wild animals in the country, their status in nature and threats to their habitat, the minister said.
He said the tiger survey programme has started in Sundarbans through camera trapping.

Later, he said, various activities will be implemented, including research on tiger prey in the Sundarbans, construction of 60 km long nylon fencing in the area adjacent to the locality to resolve tiger-human conflict and training of members of Village Tiger Response Team and Community Patrol Group.
Chaired by Chief Conservator of Forests Md Amir Hossain Chowdhury, the meeting was addressed, among others, by Deputy Minister for Environment, Forest and Climate Change Habibun Nahar, Environment Secretary Dr Farhina Ahmed, Prof Dr Mohammad Mostafa Feroze of Jahangirnagar University, Chairman of Prokriti O Jibon Foundation Mukit Majumder Babu and Conservator of Forest Imran Ahmad.