17 militants, 3 KNF members held in Bandarban: RAB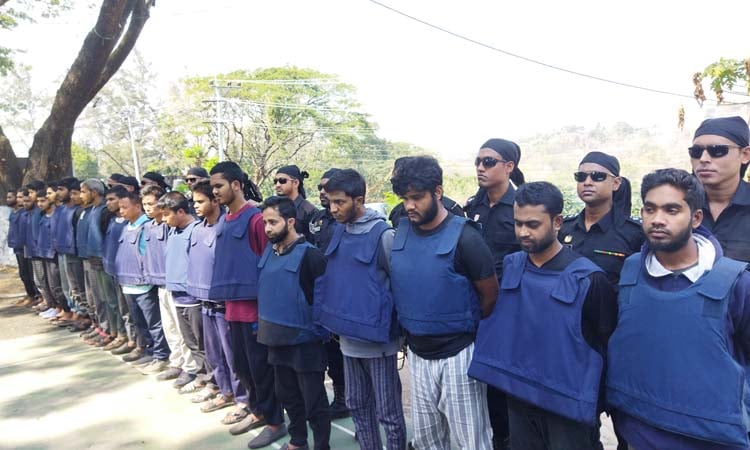 BANDARBAN, Feb 8, 2023 (BSS)- Rapid Action Battalion (RAB) arrested 17 members of the new militant group 'Jamatul Ansar Fil Hindal Sharqiya' and three members of armed separatist group Kuki-Chin National Front (KNF) in the ongoing anti-militancy drive in the district on Tuesday.
They were arrested in a raid in the area adjacent to Remakri Bridge of Thanchi upazila of the Bandarban Hill District, RAB said today.
RAB spokesperson Khandaker Al Moin said a large volume of domestic and foreign weapons, ammunition and bomb-making equipment, extremist books, content, leaflets, 7 lakh cash Taka and various tools were recovered from the arrested persons.
The arrested militants were identified as Aasami Rahman alias Saifullah,19, son of Mahbubur Rahman, resident of Cumilla Sadar upazila, Md Sohel Molla alias Saifullah,22, son of Malek Molla, resident of Betagi upazila of Barguna district, Md Al Amin Fakir alias Mostaq,19, son of Forkan Fakir, resident of Patuakhali district headquarters, Md Zahirul Islam alias Omar Farooq, 27, son of Abdul Latif of Langalkot upazila in Cumilla district, Md Miraj Shikdar alias Ashraf Hossain alias Dolan, 26,son of Altaf Hossain of Patuakhali district headquarters, Riaz Sheikh alias Zayed, 24, son of Abdul Quddus of Tongibari in Munshiganj district, Md Obaidullah alias Obaidul alias Shakib alias Shanto ,20, son of Ismail Hossain Howlader of Mohipur in Patuakhali district, Jewel Mahmud alias Mahmud,27, son of Anis Musalli of Mirzaganj in Patuakhali district, Elias Rahman Tanzil alias Sohel alias Tanboan, son of Dulal Rahman of Dhanbariin Tangail district, Md. Habibur Rahman alias Mora, 23, son of Abu Yusuf Howlader, resident of Jhalakathi district headquarter, Md Sakhawat Hossain alias Mabrur alias Risingh,21, son of Malek Forazi, resident of Cumilla district headquarter, Abdus Salam Raki alias Dumchuk alias Russell, son of Nasir Howladar of Kotwali in Barisal district, Jobair Ahmed alias Aiman alias Aiman alias Renal alias Omar , 29, son of Maulana Hossain Ahmad of Laksam in Cumilla district, Tawabur Rahman Sohan alias Minto alias Maobak alias Zakir Alam, 20, son of late Qutubur Rahman of Madhabpurin Habiganj district, Mohammad Mahmud alias Dakua alias Haka, 20, son of Golam Mustafa of Barisal district, Mohammad Abu Huraira alias Miraj alias Saiso, son of late Shamsur Rahman of Magura District.
The arrested members of KNF are Malsam Pangkua, 52, son of Jalsur Pangkua of Bilaichhari in Rangamati district and Lal Mol Siam Bom and Flag Kroos.