Migratory birds delighting spectators in northern region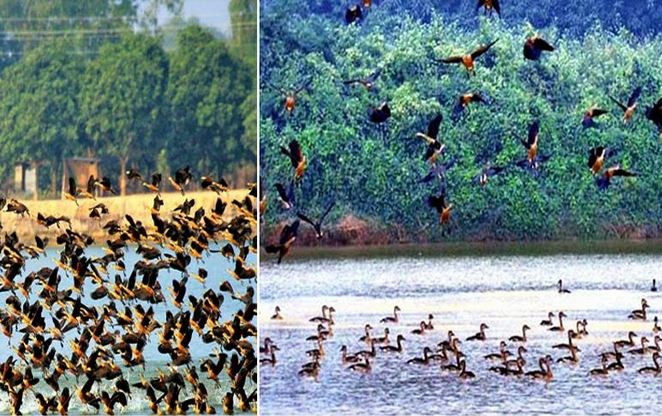 RANGPUR, Feb 7, 2023 (BSS) - The riverine areas, beels and other water bodies have worn a fantastic look with arrival of migratory birds during this winter delighting many spectators in the northern region.

Hundreds of people of all ages are witnessing the arrival of migratory birds from the Himalayan and Siberian regions in the water bodies and their well-mannered flying and movement have given nature a decent fleeting glance.

Local residents, environmental observers and experts said the number of arriving migratory birds from the colder northern hemisphere is comparatively lower this time than previous few years.

The migratory birds are living on small fishes, insects, small snails and watery plants after arriving in the water bodies.

Superintending Engineer of Barind Multipurpose Development Authority (BMDA) for Rangpur Circle Md. Habibur Rahman Khan said the number of arriving migratory birds in the water bodies of Rangpur region is little lower but reasonable this season.

Temperature starts falling sharply in the Himalayan, Siberian, Xinxiang and Mongolian regions from early November making those regions hardly habitable for birds in December, January and February months every year with little variations.

"As a result of increasing cold in those regions, migratory birds started arriving in comparatively higher numbers in the water bodies of the northern region from November last," he said.
The BMDA's re-excavated 11.59-acre watery area of the Bharardaho beel with plantation of 103 species of rare wood, fruit, medicinal and flower plants on its 100-feet wide bank in Rangpur has become a sanctuary for migratory birds with huge flora, fauna and green nature.

"The whole beel area is now covered with the chirping of guest birds and free movement of their wings and well-mannered flying have created a sight beholding scene attracting visitors to enjoy the panorama," Khan added.

Talking to BSS, Professor of the Department of Bengali of Begum Rokeya University and Director of the Riverine People Dr. Tuhin Wadud said migratory birds were seen in uncountable numbers in the water bodies 30 to 35 years back in the northern region.

"However, the number of arriving migratory birds is comparatively lower this season than the previous years due to reduction in the number and areas of water bodies and depletion of many sweet water fishes from marshes," he said.

He blamed that global climate change has caused drying-up of the rivers creating threats to biodiversity, ecology and environment and making an imbalance in nature forcing extinction of many species of fishes and insects and lessening foods for migratory birds.

"The number of arriving migratory birds might reduce further as the water bodies would dry up much earlier before the end of winter season if the climatic condition continues to deteriorate," Dr. Wadud said.

This season, migratory birds have arrived in the 'Ramsagar Dighee' in Dinajpur having 77.90 acres of water body with 68.54 acres of banks with gardens all-around.

"Visitor are rushing to the 'Ramsagar Dighee' to witness migratory birds and pleasant moments of their flying in the air and coming down on the water again and again," he added.

Similarly, migratory birds have arrived in the 'Neel Sagar Dighee' in Nilphamari where common people are enjoying pleasant arrival and well-mannered flying and movement of the birds giving nature a decent fleeting glimpse.

Editor of the Weekly Juger Khabar published from Chilmari in Kurigram SM Nurul Amin Sarker said the number of guest migratory birds arriving in the riverine areas on the Brahmaputra basin is comparatively lower this time compared to the previous years.