Ecuadorans reject extradition proposal: president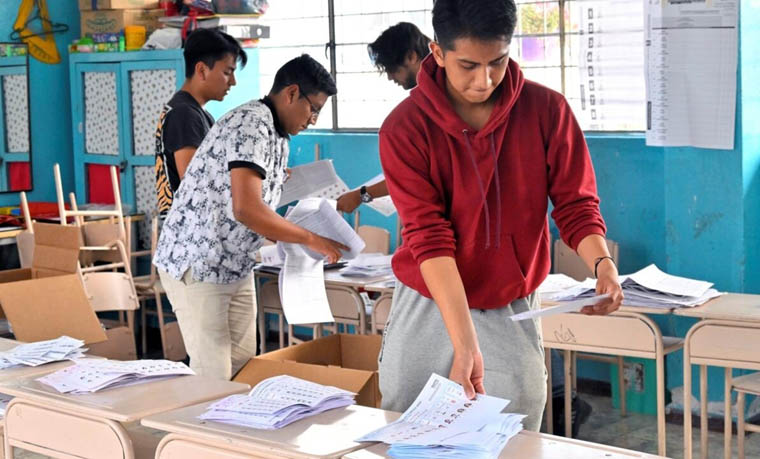 QUITO, Feb 7, 2023 (BSS/AFP) - Ecuadorans have rejected a proposal by the government to allow the extradition of citizens with links to organized crime, President Guillermo Lasso conceded Monday after a weekend referendum.
The extradition of Ecuadorans is prohibited by the constitution of the South American country, which has been rocked by a dramatic increase in criminal violence.
Lasso, an unpopular conservative and former banker, proposed legalizing extradition as a means of fighting drug trafficking and a crime wave that claimed the lives of two candidates in local elections held alongside the referendum.
On Sunday, the matter was put to a mandatory referendum for Ecuador's 13.4 million eligible voters.
With 96 percent of ballots counted by Monday, the "No" vote led "Yes" by 51 percent to 49 percent, according to results published by the National Electoral Council (CNE).
"I acknowledge that the majority does not agree with those issues being resolved with the tools under consideration in the referendum," Lasso said in a speech carried on national TV and radio.
He called for a national debate on what to do about drug trafficking and what he called its links to politics.
Ecuador is sandwiched between Colombia and Peru, the world's two largest cocaine producers, and has itself become a hub for the global drug trade in recent years.
Despite not having any major drug plantations or cartels of its own, nor big laboratories for refining cocaine, Ecuador is listed by the United States as one of the top 22 drug-producing or transit countries in the world.
Drugs produced elsewhere are shipped from Ecuador's Guayaquil port to the United States, Europe and Asia.
This has resulted in a bloody territorial war between gangs -- some with ties to Mexican cartels, according to the authorities -- who brutally kill each other on the streets and in Ecuador's overcrowded jails.
The murder rate in the country of 18.2 million almost doubled between 2021 and 2022, from 14 to 25 homicides per 100,000 inhabitants, according to official figures.
Drug seizures have skyrocketed and prison massacres have left more than 400 inmates dead since 2021.
- Test for the president -
In neighboring Colombia, extradition to the United States has proven to be a useful weapon against drug traffickers, though cocaine production is still booming.
Allowing extradition was one of eight constitutional changes proposed in Ecuador's referendum, which went hand-in-hand with elections for mayors, municipal and neighborhood councils, and a body that nominates people to key oversight posts.
The vote was seen as a political test for Lasso, who took office in 2021 and has an unpopularity rating of 80 percent, according to a recent poll.
The opposition Citizen Revolution movement led by former socialist president Rafael Correa campaigned for the rejection of Lasso's proposed constitutional reforms.
In other defeats for Lasso in Sunday's voting, the mayoral jobs in the country's two largest cities, Quito and Guayaquil, went to people who support Correa.