Liton thanks people for making PM's meeting in Rajshahi successful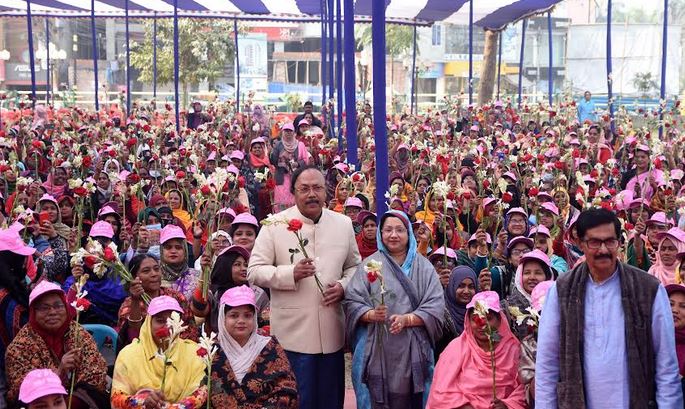 RAJSHAHI, Feb 5, 2023 (BSS) - Mayor of Rajshahi City Corporation and Awami League Presidium Member AHM Khairuzzaman Liton today expressed his heartfelt thanks to the marginalized women for making the public meeting of Prime Minister Sheikh Hasina in Rajshahi on January 29 a grand success.
Mayor Liton thanked the members and beneficiaries of the Livelihoods Improvement of Urban Poor Communities Project (LIUPCP) while addressing a view-sharing meeting with them at Green Plaza of the City Bhaban here.
More than 1,000 members of Community Development Committee (CDC) Town Federation, Community Housing Development Fund (CHDF) and Cluster joined the programme.
Marginalized Community Adviser Ariful Haque, social worker Shaheen Akter Rainy, RCC Chief Engineer Nur Islam and former chairman of Rajshahi Education Board Prof Tanbirul Alam also spoke on the occasion with CDC Town Federation President Ayesha Islam Munni in the chair.
Mayor Liton said diversified steps were adopted to improve the living and livelihood conditions of the disadvantaged and underprivileged people in the city.
After taking advantage of the time-fitting and need-based measures, many of the marginalised people have already become self-reliant social contributors.
Many slum people have started living in brick-built houses leaving their thatched or mud-house in the city. Liton said the city corporation has taken initiatives to build affordable houses by adopting a need-based coordinated plan to tackle the growing housing crisis.

He focused on stronger collaboration between the government and non-government organisations and involving public representatives and other relevant stakeholders to promote plans for people living in urban slum areas.
The Mayor also suggested implementing community-led housing models that accommodate the urban poor in city areas and help improve their living standards.
He told the meeting that the LIUPC project is being implemented in cooperation with the United Nations Development Programme (UNDP) to achieve long-term sustainable growth by eradicating urban poverty and achieving Sustainable Development Goals (SDG) by 2030.