Lies are wealth of BNP: Mirza Azam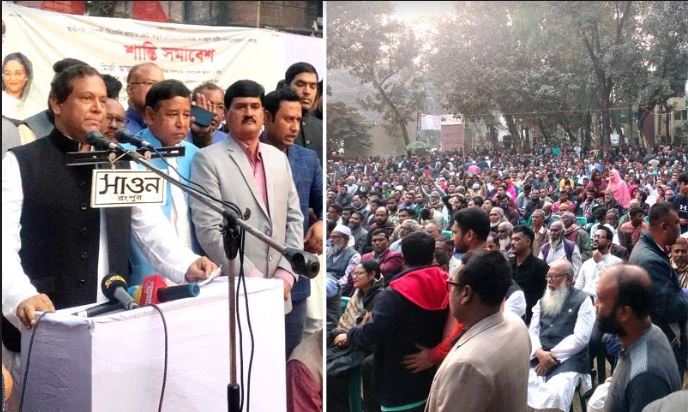 RANGPUR, Feb 4, 2023 (BSS) - Organizing Secretary of Bangladesh Awami League Mirza Azam, MP, here today said BNP is a party of liars and lies are their wealth.

"When Awami League turns the country from a middle income one to a developing nation on the way to build a developed country, BNP leaders and activists then do not see development. Mirza Fakhruls just hatch conspiracies to go to power," he said.

Mirza Azam said this while speaking as the chief guest at the peace rally at Public Library ground organized by Rangpur District and City Awami League to protest the BNP-Jamaat's terror and anarchy.

Mirza Azam said BNP wants to see the country as like as Sri Lanka and their leaders are busy spreading false information against the country.

"They lie in front of the media as if they are telling the truth. They tell all lies. BNP is a party of Razakars, an anti-independence party and came to power through conspiracies. When they came to power, they championed corruption in the country," he said.

He said the BNP's chairperson is in jail in a corruption case. The creator of Hawa Bhaban is out of the country with a bond that he will not do politics, but he is hatching conspiracies against the country from outside.

He said, when Awami League came to power in 2008, Khaleda Zia said that Bangladesh would become India.

However, after Sheikh Hasina became the Prime Minister, Bangladesh filed a case in the International Court of Justice and conquered the sea from India and Myanmar and built model mosques across the country with government funding.

"This Awami League government has built the Padma Bridge, Metrorail, Karnaphuli Tunnel by countering domestic and international conspiracies. During the Covid-19 pandemic, Bangladesh is the first to provide vaccines and keep the economy stable," he said.

He said BNP leaders and activists do not like that development, BNP is talking about democracy today, but they came to power illegally and formed the party, raised the national flag on the cars of the anti-liberation forces.

"Time has come for us to boycott Razakar's party BNP once and for all. BNP today talks about stealing votes, but they started stealing votes through Magura elections. There will be no election in this country through a caretaker government," he said.

He said, "There is still time, BNBP should come to the polls. If you (BNP) are popular, come to the election and check your popularity," he said.

Organizing Secretary of Awami League Sujit Roy Nandi spoke as the keynote speaker in the peace rally and its central committee Member Advocate Safura Begum Rumi Central and local leaders addressed as special guests.

Rangpur City Awami League Convener Dr. Md. Delwar Hossain presided over the peace rally jointly moderated by its Joint Convener Md. Abul Kashem and Joint Convener of District Awami League Mazed Ali Babul.

District Awami League Convener Chhayadat Hossain Bakul gave a welcome speech.

Leaders and activists from different Thana, Ward and City units of Awami League participated in the peace rally.