Hasan inaugurates premiere show of movie 'Birkonnya Pritilata'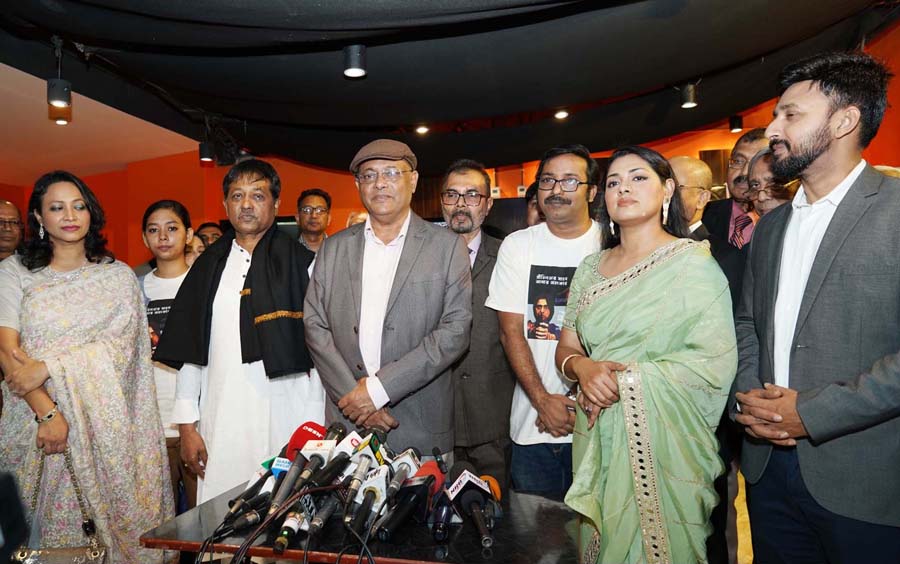 DHAKA, Feb 1, 2023 (BSS) - 'Birkonnya Pritilata', a government grant recipient movie based on the life of revolutionary Pritilata Waddedar, has been released today.

Information and Broadcasting Ministry Dr Hasan Mahmud inaugurated the premiere show of the film at the Star Cineplex at Bashundhara City Shopping Mall in the capital.

Director of the film Pradip Ghosh, film stars Nusrat Imroz Tisha, who played the role as Pritilata, actors Monoz Pramanik and Sheikh Shaki, among others, were present.

The plot of 'Birkannya Pritilata' an adaptation of poet Selina Hossain's novel 'Bhalobasa Pritilata', follows the story of Pritilata Waddedar, a revolutionary nationalist who gave her life during the anti-British movement.

Pradip said that the movie has been released at 10 cinema halls including the Star Cineplex in the first phase.

The minister congratulated all artistes and others of the movies.

Hasan said, "Tisha played the role of Pritilata. I congratulated her too as Pritilata is a historic character. Pritilata is a source of endless motivation for movement, struggle, and freedom struggle in this subcontinent. I also congratulate director Pradip Ghosh".

He said, "I've read the books on Pritilata and revolutionary movements of Chattogram in my childhood and I had a dream to become a revolutionary at the teen age as the all activities of Pritilata, Surya Sen and other revolutionaries inspired me. From the dream, later I joined in the student politics".

The minister said Pritilata was a member of the revolutionary movement of Surya Sen in 1932, and he planned to attack the Pahartali European Club which had a signboard that read 'Dogs and Indians do not allowed'. Surya Sen decided to appoint Pritilata to lead the attack, he added.

He said Pritilata went to Kotowali Sea Side for arms training and made the plan of their attack there. "On the day of the attack, Pritilata dressed herself as a Punjabi male. After the successful operation, she signaled the members to go back by blowing a whistle. Pritilata was preparing to return later. But at the last moment, Pritilata was shot by an English soldier who was hiding. Meanwhile, all other members of the team managed to reach safety. After ensuring the safety of all the team members, Pritilata chose to commit suicide by eating a 'potassium cyanide' pill so that the English soldiers could not take her alive," said Hasan, also Awami League joint general secretary.

The minister believes that the film will encourage the youths who want to know the history and love the country.

He said the Indian journalists who came here a few days ago are also eagerly waiting to see the movie.