JS body for apprising of role of BD missions in preventing propaganda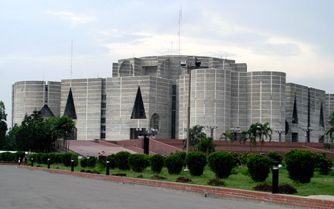 DHAKA, Jan 30, 2023 (BSS) - Parliamentary Standing Committee on the Ministry of Foreign Affairs today recommended apprising of the role of Bangladesh missions abroad in stopping anti-state propaganda being carried out in different countries.

The committee made the recommendation at its 32nd meeting held at the Jatiya Sangsad (JS) Bhaban with Committee Chairman Lt. Col. (Retd) Muhammad Faruk Khan in the chair.

Committee members Foreign Minister Dr. A. K. Abdul Momen, State Minister for Foreign Affairs Md Shahriar Alam, Nurul Islam Nahid, Md. Abdul Majid Khan, Kazi Nabil Ahmed and Nizam Uddin Jalil (Jhon) joined the meeting.

The committee also suggested holding regular view-exchange meetings with some important countries, including the USA and China, for strengthening relations with Bangladesh.

It recommended sending the letter from the Foreign Affairs Ministry for taking up proper measures by BGB as no more Rohingya can enter Bangladesh in future.

Issues discussed in the meeting included the measures taken in 'economic diplomacy' to deal with the economic recession induced by the coronavirus pandemic and the Russia-Ukraine conflict, hassle of expatriate Bangladeshis in getting passports in different countries and the work plan of newly appointed Bangladesh ambassador to Turkey.

Senior officials of the Foreign Affairs Minister, including the foreign secretary and concerned senior officials of the Parliament Secretariat, were present at the meeting.