Killing people is BNP's politics: Amu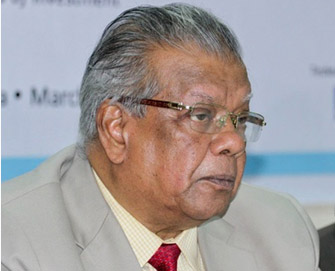 DHAKA, Jan 30, 2023 (BSS) - Awami League (AL) Advisory Council Member and 14-party Alliance Spokesperson Amir Hossain Amu today said killing people in the name of the movement is the politics of BNP.

"Awami League had been persecuted for the consecutive 21 years after the assassination of Bangabandhu Sheikh Mujibur Rahman in 1975 as the massacre was politically motivated," he said while speaking at a discussion as the chief guest organised by Bangladesh Samajtantrik Dal (Basad) at Abdus Salam Hall of Jatiya Press Club here.

Amu said, "BNP is killing people in the name of movement...the countrymen yet to forget the arson attacks and killing of people."

Terming the assassination of Bangabandhu as politically-motivated, Amu said the independence and sovereignty of the country had been choked by the murder of the Father of the Nation and their family member on August 15, 1975.

"AL didn't persecute the BNP after coming to state power in 1996," he added, saying BNP is trying to catch fish in the troubled water taking the advantage of price hike of essential goods.

"Strict actions will be taken if BNP creates anarchy across the country in the name of the movement," he issued a note of warning saying BNP is dillydallying for not taking part in the upcoming general election as they do not have people's support.

Basad Convener Rezaur Rashid Khan presided over the meeting while Member Secretary of the organization Hamidul Kibreya Chowdhury moderated the event.

Jatiya Samajtantrik Dal Jasad (JSD) president Hasanul Huq Inu, Jatiya Party (JP) Presidium Member Azaj Ahmed Mukta, National Awami Party (NAP) General Secretary Ismail Hossain, Communist Kendra Convener Oazedul Islam Khan, Gono Azadi League President Advocate SK Shikder and Ganatantri Party General Secretary Dr. Shahadat Hossain, among others, spoke in the meeting.