Govt working to manage sustainable livelihoods for climate migrants: minister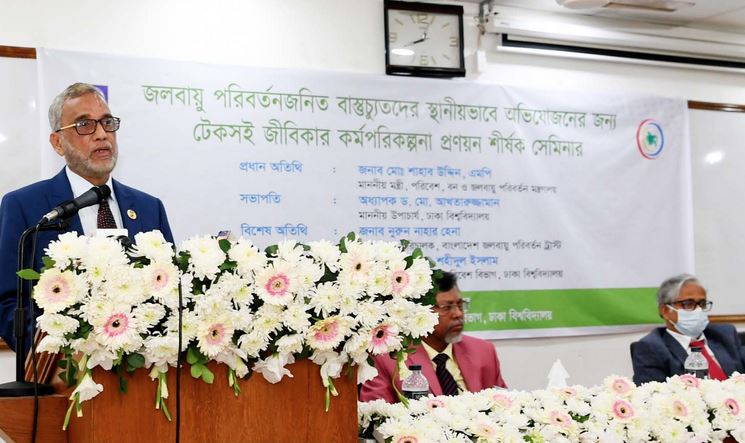 DHAKA, Jan 29, 2023 (BSS) - Environment, Forest and Climate Change Minister
Md Shahab Uddin today said the government is implementing a research project
to access the impacts of climate change on local livelihoods and what factors
push climate vulnerable people to migrate from their localities.
Funded by the Bangladesh Climate Change Trust Fund (BCCTF), the project is
being implemented by the University of Dhaka and an action plan will be
formulated that provides opportunities for research-based knowledge, local
economic base and local adaptation, he said.
The environment minister was addressing a seminar organised at the auditorium
of Geography and Environment Department of Dhaka University (DU) under the
project titled 'Local Level Adaptation of Climate Change Displaced People:
Preparation of an action Plan for Sustainable Livelihood'.
Speaking as the chief guest, he said the government will take effective steps
as per the recommendations to be given in this project.
"The results of the research programme will contribute to combating the
adverse impacts of climate change," Shahab Uddin said, adding that the
incumbent government has formulated a climate change strategy and action plan
to deal with the impacts of climate change.
To implement this action plan, he said a total of 851 projects have been
taken up by the Bangladesh Climate Change Trust established under the special
initiative of Prime Minister Sheikh Hasina.
Of these projects, three projects have won awards at the national level and
one project at the international level, the minister continued.
He said along with climate Change, the country's weather patterns are
changing while the coastal areas and river-based livelihoods are increasingly
under threat.
According to a study (2018), 1.6 men and 0.9 women per 100 people are
migrating to cities due to river erosion.

"The number of families moving towards cities is the highest. Agriculture is
gradually decreasing due to constant urbanisation, industrialisation and the
increase in soil salinity due to climate change in the coastal areas," he
said.
Shahab Uddin said that the government will work to prevent this migration
towards urban areas and manage their livelihood options locally.
Bangladesh Climate Change Trust Managing Director Nurun Nahar Hena, Dhaka
University's Geography and Environment Department Chairman Professor Dr Md
Shahidul Islam and Project Director and Prof of Geography and Environment
Department Nurul Islam Nazem spoke, among others.
Dr. Humayun Kabir, Professor of the Department, presented the brief findings
of the project.
Teachers, researchers and representatives of various public and private
organisations attended the seminar.