Sheikh Hasina establishes rules of law following constitution: Rezaul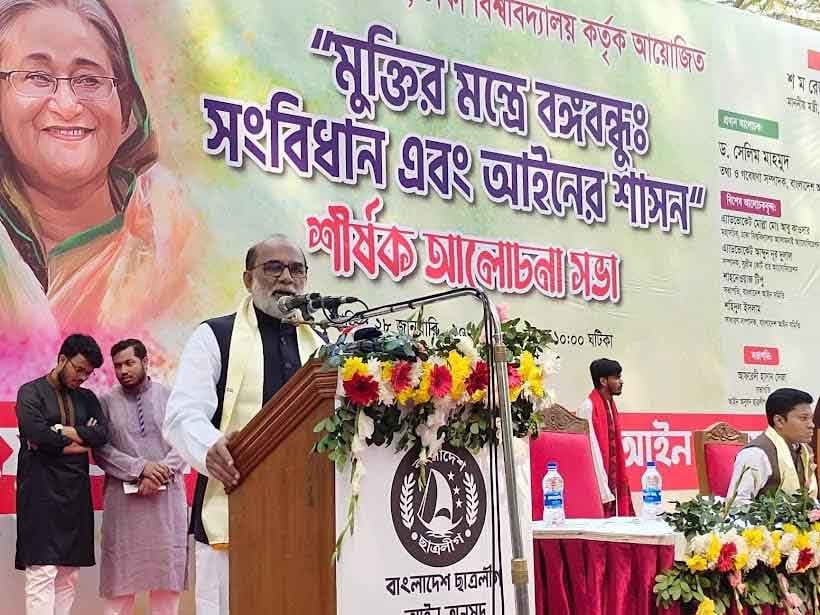 DHAKA, Jan 28, 2023 (BSS) - Fisheries and Livestock Minister S M Rezaul Karim today said that Bangabandhu's daughter Prime Minister Sheikh Hasina has established the rule of law in the country in line with the provisions of the constitution.
"Bangabandhu's daughter has been establishing rule of law through her courageous efforts in line with the constitution," he said.
He told a discussion meeting titled 'Muktir Mantre Bangabandhu: Constitution and Rule of Law' organized by Bangladesh Chhatra League and Dhaka University (DU) Law Faculty at Kazi Motahar Hossain Building premises at Dhaka University, said a press release.
"After the brutal killing of Bangabandhu on August 15, 1975, the reign of murder was established in Bangladesh through rehabilitation of killers," he said.
The tradition, he said, was followed by the murderers of Bangabandhu and later by Khandaker Mushtaq, Ziaur Rahman, Ershad and Khaleda Zia.
"Bangabandhu's daughter Sheikh Hasina came back to the country and established the rule of law by prosecuting war criminals, Bangabandhu's murderers and perpetrators of other major crimes," Rezaul said.
Father of the Nation Bangabandhu Sheikh Mujibur Rahman who believed in the rule of law gave us the constitution, he said.