BNP-Jamaat hatching conspiracies against country: Faruk Khan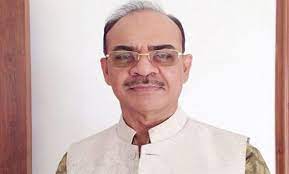 DHAKA, Jan 28, 2023 (BSS) - Awami League (AL) Presidium Member Lieutenant Colonel (retd) Muhammad Faruk Khan today said BNP-Jamaat has started hatching conspiracies against Bangladesh when the country is moving forward under the dynamic leadership of Prime Minister Sheikh Hasina.
"BNP-Jamaat is hatching conspiracies to take Bangladesh backwards at a time when Bangladesh is moving forward under the dynamic leadership of Sheikh Hasina, when the GDP of Bangladesh goes above Singapore and Malaysia and Bangladesh became the 35th largest economy in the world," he said while speaking at a peace rally in the city's Bangabandhu Avenue area.
Awami Jubo League organized the rally protesting the terrorist activities and anarchies of BNP-Jamaat with its Chairman Sheikh Fazle Shams Parash in the chair.
All of the World Bank, the IMF and the Asian Development Bank have predicted that the way of Bangladesh is moving forward, and if it continues like this, the country will be the 27th largest economy in the world by 2030, Faruk said, adding, "And this is possible only if Sheikh Hasina and Awami League remain in power".
AL Central Working Committee Member Tarana Halim spoke at the rally while Jubo League General Secretary Mainul Hossain Khan Nikhil conducted it.