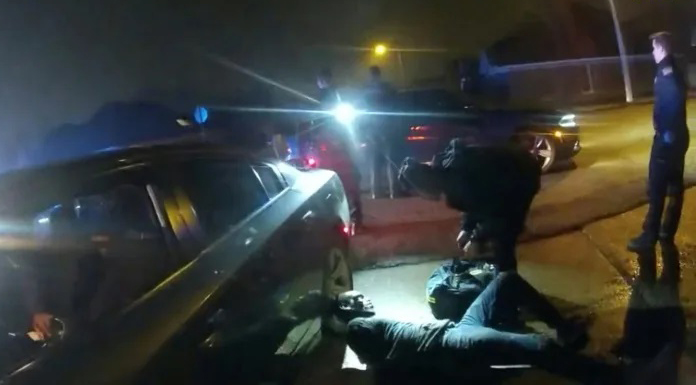 MEMPHIS, Jan 28, 2023 (BSS/AFP) - The US city of Memphis on Friday released distressing footage of the fatal police beating of a 29-year-old Black man, seen calling for his mother as the blows rain down in an assault that has sparked calls for protests -- and fears of possible unrest.
Five Memphis officers, also all Black, were charged with second-degree murder in the beating of Tyre Nichols, who died in hospital on January 10 three days after being stopped on suspicion of reckless driving.
The lengthy video footage from police bodycams and a street surveillance camera shows a group of officers detaining Nichols, attempting to take him down with the use of a Taser, then giving chase as he evades them.
Subsequent segments -- the footage runs about an hour in total, and is audio-only in parts -- show Nichols crying out for his mother, and moaning as officers repeatedly kick and punch him.
In one extremely graphic video, officers are seen aiming several kicks at Nichols' face. After pulling him up, they deliver five punches to his face. When he falls to the ground they aim two more kicks at his face.
US President Joe Biden declared himself "outraged and deeply pained" by the footage, saying it "will leave people justifiably outraged."
Biden repeated his appeal for protesters to remain peaceful, saying: "Those who seek justice should not resort to violence or destruction."
Addressing an emotional press conference earlier Friday, the victim's mother RowVaughn Wells likewise appealed for calm -- while calling out the officers who she said beat her son "to a pulp," telling them: "You disgraced your own families when you did this."
Biden spoke with Wells who he said was "obviously in enormous pain," commending "the family's courage and strength" and her "very strong plea" for peaceful protests.
The father of a four-year-old son, Nichols worked for FedEx, loved skateboarding and taking photos, and had a tattoo of his mother's name on his arm.
"My heart just breaks," Wells told the news conference. "For a mother to know that their child was calling them in their need, and I wasn't there for him."
"My son was a beautiful soul," Wells said. "He was a good boy. No one's perfect. But he was damn near it."
In downtown Memphis, around 50 protesters gathered at the central Martyrs Park to mark the video's release, later blocking a main road as they marched and chanted "No Justice, No Peace" and "Say His Name: Tyre Nichols."
Around 100 people gathered in New York's Times Square, chanting similar slogans and holding banners reading "End police terror."
The White House said senior staff had briefed the mayors of more than a dozen cities, including Atlanta, Chicago and Philadelphia, on federal assistance in case of protests.
Memphis Police Chief Cerelyn Davis compared the video to footage of the 1991 Rodney King beating. The 1992 acquittal of officers who beat King sparked days of riots in Los Angeles that left more than 60 people dead.

The young man's death also drew immediate comparisons with the May 2020 killing of George Floyd, another Black man whose suffocation by a white police officer in Minneapolis was likewise caught on video.
- Police brutality -
Video of Floyd's death spread rapidly, sparking a massive wave of at times violent protests nationwide and beyond, and reviving scrutiny of race relations and a culture of police brutality in the United States.
Police officer Derek Chauvin was consequently convicted of murder, in what was seen as a landmark case after he knelt on Floyd's neck for nearly 10 minutes.
At a Memphis skate park where Nichols was a local, flowers and candles were laid out beside signs demanding "Justice for Tyre."
Robert Walters, a 67-year-old blues musician visiting the city from Virginia, said he and his wife would return home early to avoid any violence.
"I'm a Black man living in America. And that fear is always something that me and my son, we grew up with and we live with," he told AFP, in reference to police brutality.
The five officers involved in Nichols' fatal beating were taken into custody following a rapid internal investigation that found them to have deployed excessive use of force and to have failed to render aid.
In addition to second-degree murder charges, the officers are also facing indictments for aggravated assault and aggravated kidnapping.
Four of the five were released from jail after posting bail, US media reported Friday, citing jail records.
The fact the officers were themselves Black "hurts," Walters said.
"These guys, you'd think, of anybody, should know (better)," he said.
"I just want people to just be calm and not do anything stupid, not destroy or hurt."