Bengali New Year to be celebrated in New York on April 14-16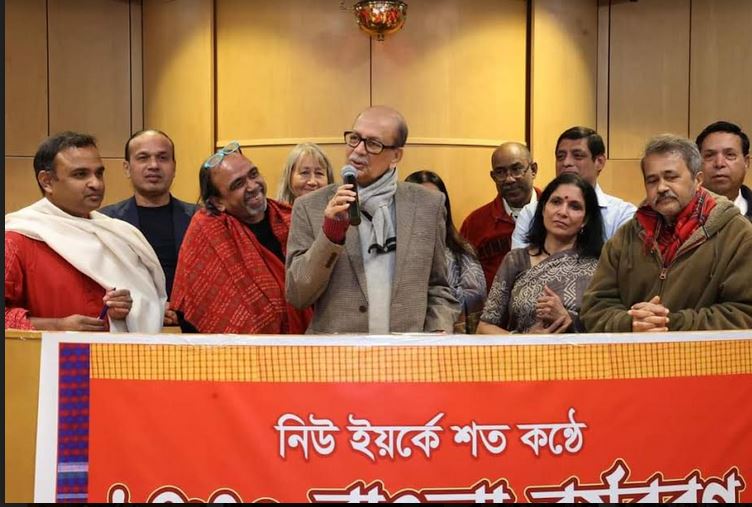 DHAKA, Jan 27, 2023 (BSS) - Bangladeshi expats will celebrate Bengali New Year in New York City with three-day programme from April 14 to 16.
The programmes will include Sotokonthe Borsho Boron (welcoming of Bengali New Year with chorus song in 100-voice), Mangal Shobhajatra, puppet show, bioscope, theatre, folk songs and so on, said a press release received here today.
NRB Worldwide will arrange the programme with the cooperation of progressive social and cultural organizations.
On behalf of the expatriate community, elderly journalist Muhammad Fazlur Rahman announced the programme at a function at Jewish Center of Jackson Heights in New York on January 21.
Rehearsals of inaugural ceremony, Mangal Shobhajatra and welcoming of New Year in 100-voice were held on the day.
Accomplished musician impresario Mohitosh Talukder Taposh conducted the rehearsal while freedom fighter and singer Tajul Imam conducted rehearsal of puppet show.
Shotokonthe Borsho Boron Udjapan Parishad chief coordinator Shamim Al Amin moderated the function.
NRB World Wide President Biswajit Saha said Pohela Baishakh, the first day of Bengali New Year, will be celebrated at the dawn in New York as like as Bangladesh leading cultural organization Chhayanaut's celebration at Ramna Batamul in Dhaka.

Mangal Shobhajatra will also be brought out while two-day traditional Baishakhi Mela will also be arranged, he said.