Bangladesh to be 25th economic power by 2035: lawmakers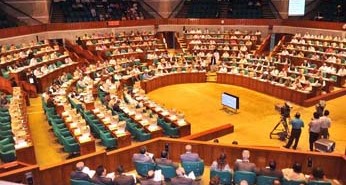 DHAKA, Jan 25, 2023 (BSS) - Lawmakers today said Bangladesh will be the 25th economic power in ranking across the world within the period of 2035, if the development programmes continue.
Bangladesh will be the 25th economic power in the world by 2035, if the present development programmes continue, they said while taking part in the discussion on thanksgiving motion of the President's speech at the Jatiya Sangsad here with Deputy Speaker Shamsul Haque Tuku in the chair.
Taking part in the discussion, the lawmakers highlighted different development activities in various sectors including communication, socio-economic, education, youth and sports, information and communication technology (ICT) under the leadership of Prime Minister Sheikh Hasina.
The President in his 168-page speech on January 5 last, on the first day of the maiden session in 2023 of the 11th parliament, focused on the country's massive successes in different sectors.
"Bangladesh is now a role model of development and it will be the 25th economic power within next 10 to 12 years, if the present development continue", said Whip Shamsul Hoque Chowdhury of Chattogram-12.
Country's per capita income now stands at USD 2824, by raising USD 235 from the previous figure of USD 2591 in 2020-2021, said Md. Shifuzzaman of Magura-1.
Participating in the discussion, another treasury bench lawmaker Mostafizur Rahman of Dinajpur-5 said the size of country's GDP in 2005 was only USD 60 million while it is now stands at USD 465 million which proves that only befitting leadership can bring such dramatic change.
Lawmakers including Sayeda Zakia Noor of Kishoreganj-1, Momotaz Begum of Manikganj-2, Suborna Mustafa of women seat-4, Waseqa Ayesha Khan of women seat-7, Saimum Sarwar Kamal of Cox's Bazar-3, Shahdab Akbar of Faridpur-2, Abdul Momin Mondol of Sirajganj-5, Shahadara Mannan of Bogura-1, Hosne Ara of Women seat-16, Khodeza Nasreen Akhter Hossain of Women seat-40 and Jatiya Party lawmaker Nasreen Jahan Ratna of Barishal-6, also participated in the discussion.

Earlier, the chief whip Nur-E Alam Chowdhury came up with a proposal for holding discussion on thanksgiving motion of the President's speech in the House and then it was seconded by treasury bench lawmaker Md. Shahiduzzaman Sarker.
The lawmakers also thanked the President for giving a timely speech highlighting the success stories of the government and guiding the nation towards peace, progress and prosperity.
Earlier, they paid a rich tribute to the Father of the Nation Bangabandhu Sheikh Mujibur Rahman for his contribution to establishing an independent Bangladesh.