JETRO, ICT Division work for flourishing innovations and startups: Kazushige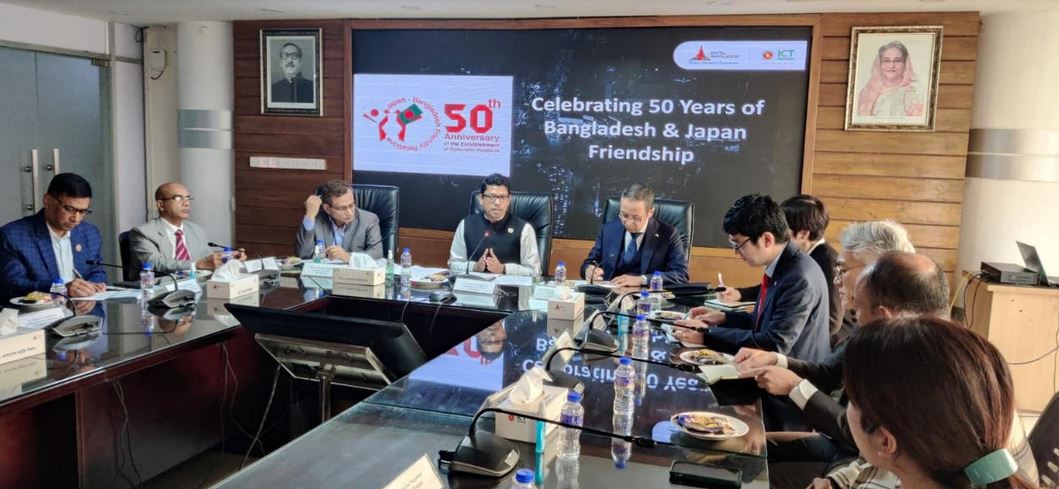 DHAKA, Jan 25, 2023 (BSS) - Japan External Trade Organization (JETRO) is keen to collaborate with ICT Division to explore opportunities from Japanese IT sector and provide support to local startup aimed at building 'Smart Bangladesh'.
JETRO President Kazushige Nobutani expressed such keenness during a meeting with State Minister for Information and Communication Technology (ICT) Zunaid Ahmed Palak today at the conference room of the ICT Division, said a press release here.
"Japan is an important development partner of Bangladesh and JETRO is ready to work together with ICT Division to flourish startup, innovation and research," said Kazushige.
Mentioning Japan as one of the largest development partners of Bangladesh, Palak said the government under the visionary and prudent leadership of Prime Minister Sheikh Hasina has already implemented Digital Bangladesh. Now the premier wants to transform Bangladesh into a 'Smart Bangladesh' by 2041, he added.
Seeking cooperation from Japan to provide support in the field of startups, innovations and research, the state minister proposed for holding IT Summit and exchanging 50 startups-- 25 from Bangladesh and 25 from Japan--to mark the 50 years of diplomatic relations between the two countries.
The Japanese delegates welcomed the proposal.
Palak conveyed thanks and gratitude to the government of Japan for providing support in various sectors including implementation of Metrorail, Matarbari deep seaport, power projects and sought cooperation in building a Bangladesh-Japan University.
Earlier, Managing Director of Startup Bangladesh Sami Ahmed presented a power point on `Building an Inclusive and Resilient Smart Bangladesh'.
In the presentation. he said the government has already developed a 'Smart Bangladesh Master Plan' that has proposed implementing more than 40 projects in line with four pillars-- citizen government, smart government, smart economy and smart society.
ICT Senior Secretary N M Zeaul Alam also spoken at the function which was attended by Executive Director of Bangladesh Computer Council (BCC) Ranajit Kumar, Managing Director of Bangladesh Hi-Tech Park Authority Dr. Bikarna Kumar Ghose, Project Director of Enhancing Digital Government and Economy (EDGE) Dr. Muhammed Mehedi Hassan and Executive Director of IDE-JETRO Ms. Mayumi Murayama, Director General of JETRO Satoshi Kubota, and Assistant Manager of IDE-JETRO Ms. Yurika Nagamine.