BRAC urges all to stand beside victims in case of any disaster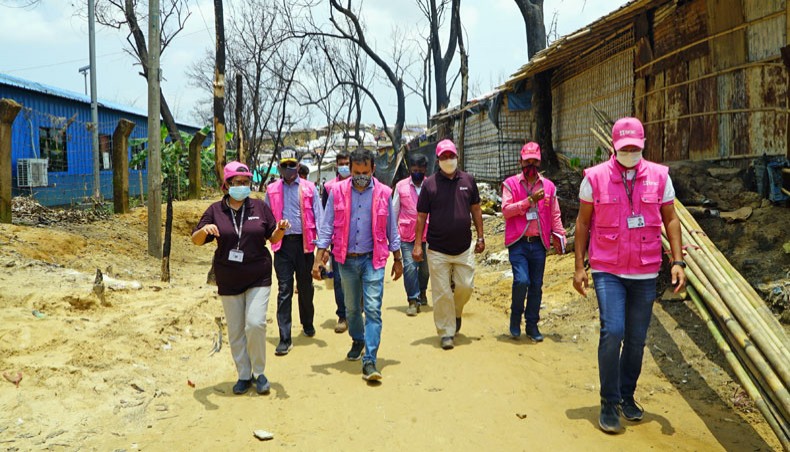 DHAKA, June 23, 2021 (BSS) - Executive Director (ED) of BRAC Asif Saleh has called on all including the employees of BRAC to stand beside the victims in case of the outbreak of any disaster or humanitarian crisis.

The BRAC ED remarked while a team of BRAC led by him was visiting the fire affected Rohingya camps at Ukhiya upazila in Cox's Bazar district on Tuesday, a press release said today.

During the visit of two refugee camps, the BRAC ED also exchanged views with Phedra Moon Morris, Head of Development Assistance of Canadian High Commission in Bangladesh.

Addressing the occasion, Asif Saleh said, BRAC plays a leading role in case of any disaster or humanitarian crisis. BRAC has set that example during the recent fire incident at Rohingya camps.

"Following the fire incident, we with the government's support conducted emergency activities including providing water, food, healthcare service and rehabilitation. Employees of BRAC are still working in this regard," he said.

Sajedul Hasan, Director of Humanitarian Programme of BRAC, Rear Admiral (retd) M Moqbul Hossain, Director of Operations of BRAC, Hasina Akhter Huq, Area Director of Humanitarian Crisis Management Programme (HCMP) of BRAC and other high officials were present during the visit.

Besides, the BRAC ED held a meeting with Unit Leads of HCMP of BRAC at HCMP Office in Cox's Bazar district today (Wednesday). In his address, he directed them to take steps for successful implementation of programmes in the days to come.

Over 9,000 houses were gutted and about 45,000 Rohingyas were made homeless due to a fire incident at Camp 8 and 9 at Balukhali in Ukhiya upazila of Cox's Bazar on March 23 this year.