BNP issues contradictory statements over lockdown: Hasan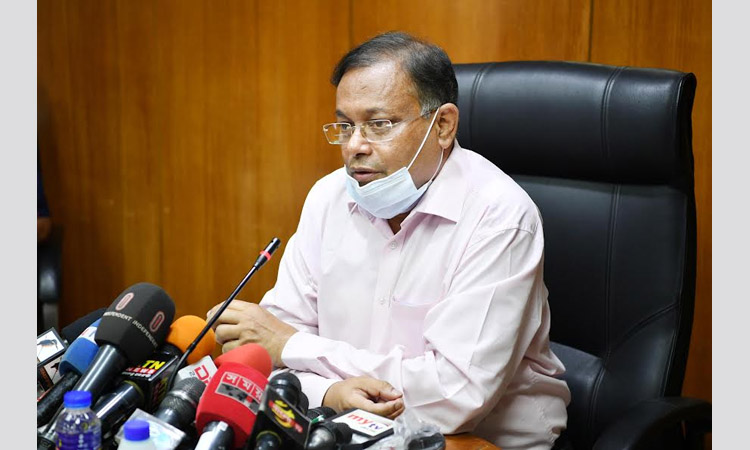 DHAKA, July 26, 2021 (BSS) - Taking a swipe at BNP's criticism
about the lockdown, Awami League Joint General Secretary and
Information and Broadcasting Minister Dr Hasan Mahmud today said BNP
is issuing contradictory statements over the lockdown.
"What is the planned lockdown of BNP? Is it like keeping people
hostage for 158 days from 2013 to 2015? Before imposing the lockdown,
they (BNP) said that the country needs strict lockdown," he told
newsmen at a view exchange meeting at the meeting room of his ministry
at secretariat.
"After enforcing shutdown, BNP said that it was unplanned. Then what
is planned lockdown?" he posed a question.
He said before issuing such statements, BNP should bear in their
mind that they held the countrymen captive for 158 days from 2013 to
2015 by enforcing hartals and blockades. Presently, the government
announced the lockdown for saving the life of people, he added.
The lockdown method, he said, has been adopted not only in
Bangladesh, but also in almost all countries including the neighbours
and European countries. "Bangladesh is going through the situation
(COVID-19) for about one and a half years. But, none died of
starvation," said Hasan.
He said there is no frustration among the countrymen due to
different steps taken by the government and the party (Awami League)
as well. "Some people are facing temporary problems. There is no need
to longer the shutdown, if the all people follow the health code
strictly," he added.
Castigating a comment of BNP secretary general Mirza Fakhrul Islam
Alamgir, the minister said it is the party (BNP) which did politics of
violence.
"In fact, the people of Bangladesh didn't see these types of
violence like killing people through arson attacks and hurling petrol
bombs on sleeping people before 2013, 2014 and 2015. The world also
didn't witness such heinous crimes of burning people for politics in
the contemporary period," he added.
"Now, if anyone in this lockdown is convicted under a criminal case
and if he/she belongs to a political party, can't he be arrested? Why
they (BNP) took side of criminals?" Hasan posed a question.
He said the court and the law would take steps if any politician is
accused of in a criminal case. There is no relation among the law and
establishing justice and politics, he added.
Replying to another query over COVID 19 situation, the minister
said now the people are not so much afraid like the beginning of
coronavirus.
Hasan urged all to maintain the health code properly, saying: "My
protection is on my own hand."