ECNEC approves 2 rural infrastructure development projects in Gazipur, Tangail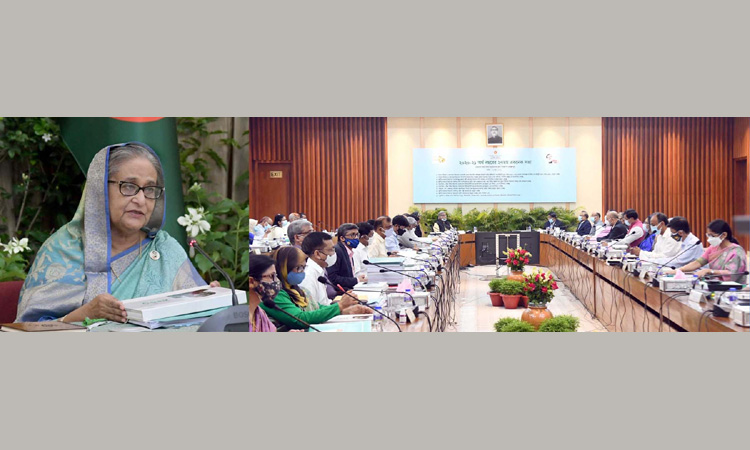 DHAKA, June 22, 2021 (BSS) - The Executive Committee of the National Economic Council (ECNEC) today approved two separate projects for rural infrastructure development in Gazipur and Tangail districts with a combined estimated cost of Taka 1,550.64crore.
The approval came from the 27th meeting of the ECNEC held in this fiscal year with ECNEC Chairperson and Prime Minister Sheikh Hasina in the chair.
The premier joined the meeting from her official Ganabhaban residence while ministers, state ministers, planning commission members and secretaries concerned joined the meeting from the NEC Conference Room in the city's Sher-e-Bangla Nagar area.
Briefing reporters after the meeting, Planning Minister MA Mannan said that a total of 10 projects were approved today involving an overall estimated cost of Taka 4,166.61 crore.
"Of the total project cost, Taka 4,125.82 crore will come from the government of Bangladesh portion while the rest of Taka 40.79 crore from concerned organization's own fund," he said. Of the approved 10 projects, seven are new while three others are revised projects.
Mannan said the Gazipur district rural infrastructure development project will be implemented with Taka 685 crore while the important rural infrastructure development project in Tangail will be implemented with Taka 865.64 crore.
The main project operations in Gazipur will be 65.74 kilometer upazila road widening and development, 91.03 kilometer Union road development and widening, 287.12 kilometer village road development and widening and construction of 5 bridges and 2 growth centers.
On the other hand, the main project operations in Tangail will be 20.04 kilometer upazila road development and widening, 73.33 kilometer Union road development and widening, 597.11 kilometer village road development, 147.57 kilometer road rehabilitation, construction of 24 small bridges and 26 growth centers.
The planning minister said the day's ECNEC meeting also approved Taka 261.34 crore project to supply safe water and improving sanitation facilities in rural areas of Gopalganj.
Mannan said he was very much excited about the project as a component on piped water supply has been included in the project.
Terming this project as a "giant step forward" towards materializing the government's initiative of turning villages into towns, he said that the government wants to ensure power, safe drinking water, improved health, sanitation, education and other infrastructures at the rural level.
"This is a historic step and it has a farsighted impact on poverty alleviation," he added.
The planning minister also informed that such kind of projects would be brought before the ECNEC in future giving priority.
Highlighting some of the directives from the premier in the meeting, Mannan said the Prime Minister stressed again on rain water harvesting as well as to take steps to keep crops cultivation and safe drinking water away from salinity.

Sheikh Hasina also put emphasis on utilizing more the surface water instead of the underground water.

Referring to the approval of the project for necessary land acquisition for building bus and truck terminals in various parts of Gazipur City Corporation (GCC) and also ensuring its solid waste management with Taka 782.25 crore, the Prime Minister expressed her mindset to build that city in a nice way through extending necessary support to the authorities of GCC.

The Prime Minister also put emphasis on having master plan by each and every public university alongside put due importance on conducting quality researches.

Besides, she said that there should be capping in number of students in the universities to ensure quality education.

Mannan said that the education minister in the meeting informed that they are working so that the number of students do not cross the upper limit.

The Premier also directed the authorities concerned to complete the Dhaka Bypass in a speedy manner.

Answering to a question, the planning minister said that they have already published a book compiling the directives of the Premier adding that more directives would be compiled in another book in a subject-specific and time-bound way.

Planning division secretary Md Jainul Bari informed that the ministries and divisions have been asked to submit progress reports on implementation of PM's directives.

"Once available, those will be compiled and will be placed before the NEC meeting," he added.

Replying to another question, Mannan said there has been tremendous improvement in the law and order situation in the country. But, still there is scope for further improvement, he added.

The planning minister said at the outset of the ECNEC meeting, Prime Minister Sheikh Hasina unveiled the cover of a book titled "Bangabandhu in disaster risk reduction" highlighting various orders and directives of Father of the Nation Bangabandhu Sheikh Mujibur Rahman and his the then government in disaster risk management.

Besides, he informed that the latest position of Bangladesh in SDGs implementation was also discussed in the meeting.

The meeting was informed that Bangladesh has performed well and is in the right path towards SDGs implementation as the country is ahead of Pakistan, India and Afghanistan in this regard.

General Economics Division (GED) member of the Planning Commission Dr Shamsul Alam said that Bangladesh is one of three leading countries in attaining SDGs.

Dr Alam said in attaining SDGs, Bangladesh is ahead of Malaysia and Thailand, but is in the same position with Vietnam.

Meanwhile, the other projects approved in the meeting are Development of Kabirhat-Chomirmunshirhat-Sonaimuri road and Senbagh-Begumganj Gasfield-Sonaimuri road under Noakhali road division with Taka 371.16 crore, Support to Joydevpur-Debgram-Bhulta-Madanpur road (Dhaka Bypass) PPP, 1st revised with an additional cost of Taka 438.24 crore, Development of Bangladesh University of Professionals (1st phase), 1st revised with an additional cost of Taka 90.63 crore, Development of Bangladesh University of Processionals, 2nd revised, with an additional cost of Taka 346.32 crore, innovation of improved Agar regen technology with Taka 67.92 crore, Construction of gas distribution pipeline network at Rangpur, Nilphamari, Pirganj town and adjacent areas with Taka 258.11 crore.