Bangladesh surpasses India in per capita income: Hasan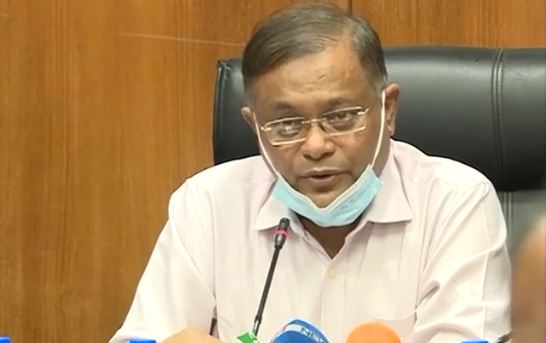 DHAKA, June 21, 2021 (BSS) - Information and Broadcasting Minister Dr Hasan Mahmud today said Bangladesh has turned into a middle-income country due to pragmatic maneuvers taken by the incumbent government.

"Bangladesh has surpassed India in per capita income. The country has turned into a middle-income and it is only possible for the present government. Even, the per capita income has increased during COVID-19 situation," he said.

The minister stated this while addressing the signing ceremony of Annual Performance Agreement (APA) with different organizations of his ministry at its meeting room in the secretariat here.


State Minister for Information and Broadcasting Dr Murad Hassan, Secretary of the ministry Md Mokbul Hossain, Bangladesh Sangbad Sangstha (BSS) Managing Director and Chief Editor Abul Kalam Azad and heads of different organizations of the ministry were present at the function.

Hasan, also Awami League joint general secretary, said despite the COVID-19 pandemic, the GDP growth rate is going to be 6.1 percent at the end of the current fiscal year and inflation has limited to 5 percent.
"When the inflation remains stable and the GDP growth rate maintains upward trend, the people's income as well as the country's development is on rising trend. And this has been happening for the last 12 years and the country is moving ahead," he added.
Even different global media are lauding the progress of Bangladesh and the dynamic leadership of Prime Minister Sheikh Hasina, he said, adding that but some people only in Bangladesh do not see the development and try to create confusion among the people.
"We also see that one or two newspapers try to analyze the progress only to raise questions about the development. Despite their ill-efforts during the 12 and a half year, the country has moved forward," said Hasan.
The minister urged the media to focus on the country's progress along with criticizing, as the country and society will move ahead only when people will be optimistic about the country.

Replying to a query about actress Porimoni, he said, "I don't want to make comments on this issue."
He said, "I also saw that BNP leader gave statements in the parliament a few days regarding this. It seems to me that the actress was more important than Begum Khaleda Zia to him or her. For this he/she gave statements over the matter."

Later, Information and Broadcasting Secretary Md Mokbul Hossain and heads of different organizations including Bangladesh Sangbad Sangstha (BSS), Bangladesh Television, Press Information Department (PID), Bangladesh Betar, Bangladesh Film Development Corporation (BFDC), National Institute of Mass Communication (NIMCO), Department of Mass Communication, Bangladesh Film Archive, Department of Films and Publications, Bangladesh Film and Television Institute, Press Institute of Bangladesh (PIB), Bangladesh Press Council, and Bangladesh Film Censor Board, signed the agreements on behalf of their respective sides.