Quader calls for resist BNP-jammat alliance as patrons of communal evil forces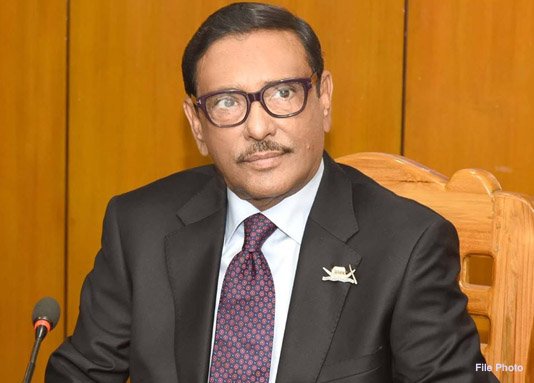 DHAKA, Oct 15, 2021 (BSS) – Awami League general secretary Obaidul Quader today called upon all the progressive people throughout the country to be united to resist BNP-Jammat alliance as the alliance is the patron of religious extremists, communal and militant evil forces.
He made this call while making protest and condemn over the attack, vandalism and torching of temple, household and commercial establishments of the Hindu community in different parts in the country including Chattogram, Chowmuhoni of Begumganj under Noakhali and Burirchar of Hatia.
"We are observing with deep concern that when the Hindu religious people of the country are celebrating their religious festival Durga Puja, then an identified communal and militant force held attack on puja mandaps, temples and household and commercial establishments of the Hindu community in different parts in the country through false propaganda and creating rumour on the social media," Quader said in a statement released here today.
Quader in his statement said that the country was emerged on the basis of non communal principal led by Father of the Nation Bangabandhu Sheikh Mujibur Rahman. This kind of attack has harmed communal harmony as well as the spirit of liberation war and the long cherished tradition and culture of the Bangalee nation, he said.
Bangladesh is a country of communal harmony and any kind of such attack on the religious community would not be tolerated.
The government led by Prime Minister Sheikh Hasina is determined to protect the non communal principal at any cost, said Quader. "The basic principal of the liberation war would not be ravaged at any cost. The country is belong to the people of all communities and also the faith of all religions."
"Bangladeshi people are religious, but not communal and extremist," Quader added.
Strict instructions have been given to the law enforcing agencies to bring back peace in these places in line with the instruction of Prime Minister Sheikh Hasina.
Those who were involved with such heinous attack would be brought under book, according to the statement. Even those who were behind this conspiracy will be arrested soon, it said.
Quader has also requested all to hand over those people to the law enforcers who are creating rumour on social media.