Action being taken against those who spread rumours abroad: Hasan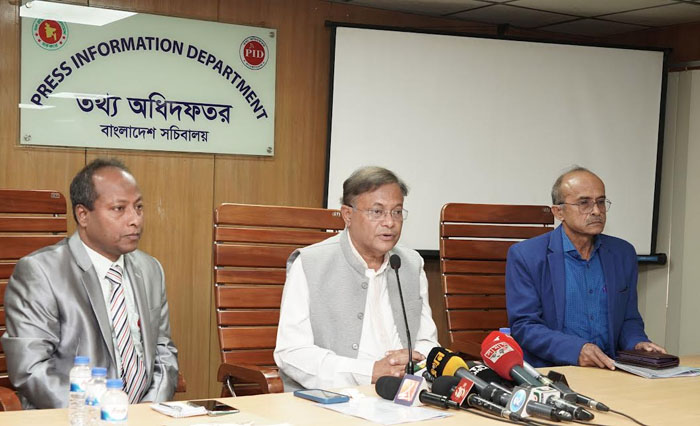 DHAKA, Nov 21, 2023 (BSS)- Information and Broadcasting Minister and Awami League Joint General Secretary Dr Hasan Mahmud today said legal action is being taken against the persons who are spreading anti-state rumours at home and abroad.
It is very regretful that a political party is patronizing those who spreading rumours, he said, adding the government has identified many of them and it was notified to concerned authorities of foreign countries.
The minister told reporters after a meeting with 'Rumour Resisting Cell and Fact Checking Committee' at the auditorium of the Press Information Department (PID) at secretariat here.
Principal Information Officer (PIO) Shahenur Mia, senior deputy PIO Abdul Jalil, deputy PIO Nasrin Jahan Lipi and information officer Gazi Sarfia Yesmin, among others, were present in the meeting.
Dr Hasan said AL leaders and activists, who are residing abroad, have been asked to take legal actions against the persons who spread rumours in those foreign countries. The government has also made the request to the authorities of the concerned countries.
He said the government is aware of the rumours which are being spread from abroad and those have been reduced than earlier.
The minister said BNP-Jamaat didn't pay properly to their paid agents to spread rumours and some audios were viral centering the issues. Besides, some expatriates lodged case against them in different countries, he said.
Urging journalists of mainstream mass media to vocal against anti-state rumours, Hasan Mahmud said they will try to spread rumours centering the upcoming elections too. They also spread rumours against COVID-19 vaccine and during the construction of Padma Bridge, he said.
In the meeting, the minister praised the activities of the committee of PID and gave advices to increase quality of their works.
Under the programme, 73 press releases, 37 icon text and four videos were released at fact checking service box of PID website, in facebook page, pidbd and YouTube channel of PID.