Beijing hopes Bangladesh election to be held based on constitution, laws: envoy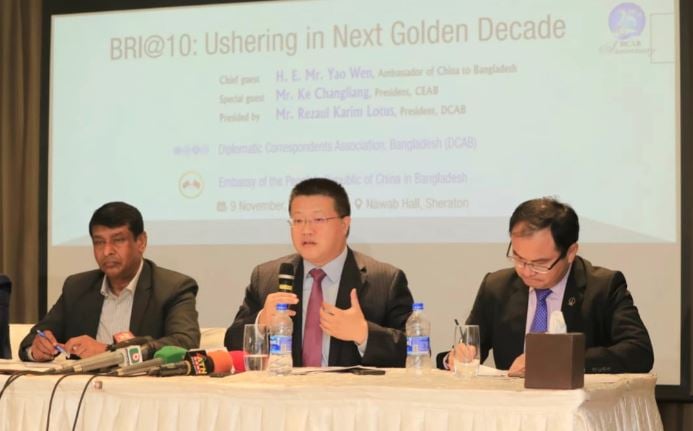 DHAKA, Nov 9, 2023 (BSS)-Chinese Ambassador to Bangladesh Yao Wen today said Beijing hopes that Bangladesh general elections would be held based on "constitution and laws" and stability to be prevailed in the country after the polls.

"I want to underscore that the upcoming election is an internal affair of Bangladesh -it is up to Bangladeshi people how they want to see the elections and democracy," he said.
The ambassador was speaking at an event jointly organised by the Diplomatic Correspondents Association Bangladesh (DiCAB) and Chinese embassy at a city hotel here today.
The envoy said China is full of confidence about the better future of Bangladesh as well as China-Bangladesh relations.

"As a friend of Bangladesh and a country with a large amount of investments, enterprises and personnel in Bangladesh, China sincerely hopes that all the stakeholders in Bangladesh would take the fundamental interests of the people into full consideration,
properly resolve their differences and jointly maintain political and social stability," he said.
As per the Chinese foreign policy, the ambassador said that Beijing adheres to the principle of non-interference in internal affairs of other countries, and opposes any force interfering in internal affairs of other countries.
While asking comments regarding the ongoing blockade, he said China hoped that Chinese people and property will be protected in Bangladesh.
"So far, we feel safe. Thanks for the efforts that have been taken," he added.

Regarding the trade relations, he said they are discussing the possibility of a free trade agreement (FTA) between the two countries and hoped that such deal will be signed between Dhaka and Beijing within 2026 while Bangladesh will graduate to middle income country from a LDC one.

The ambassador laid emphasis on boosting Bangladesh's exports through product diversification and having a more balanced trade in the next couple of years.
Regarding the Rohingya crisis, the ambassador said under the mediation of China, Bangladesh and Myanmar have reached to important consensus on early initiation of repatriation.

"With joint efforts, we managed two rounds of "come & talk" missions by the Myanmar officials and one "go & see" the mission to Rakhine State by the representatives of the displaced people and Bangladeshi officials," he said.

In this process, the envoy said, the displaced people gradually built up and enhanced confidence towards repatriation.
Highlighting the Chinese cooperation, the ambassador said over the past seven years, Chinese companies have built 12 highways, 21 bridges and 27 power and energy projects in Bangladesh, contributing to turn the dreams of the Bangladeshi people into reality.

In last seven years, the stock of Chinese investment in Bangladesh has grown from USD 241 million to nearly USD 1.4 billion while currently there are nearly 700 Chinese enterprises operating in Bangladesh, he said.
CEAB President Ke Changliang spoke as the special guest at the event. DCAB President Rezaul Karim Lotus and General Secretary Emrul Kayesh also spoke on the occasion.