Zia's family must be tried over Bangabandhu's murder: Murad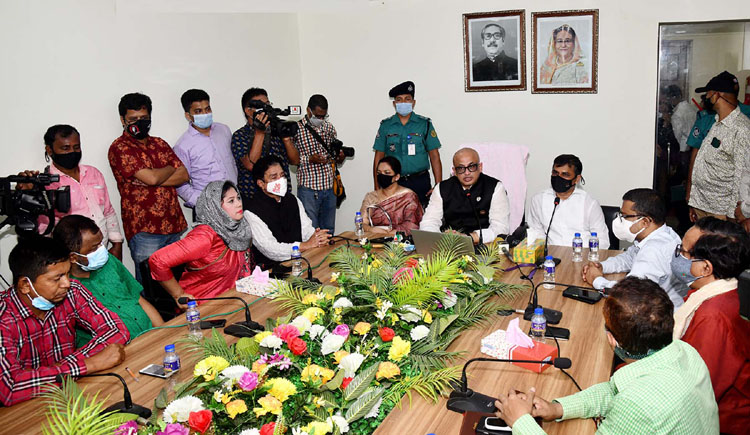 CHATTOGRAM, Sept 5, 2021 (BSS) - State Minister for Information and Broadcasting Dr. Md. Murad Hasan said BNP founder Ziaur Rahman is the mastermind behind the assassination of Father of the Nation Bangabandhu Sheikh Mujibur Rahman and most of his family members.
"The family members of Zia, who are still alive, including Tarique Zia, must be tried over the murder of Bangabandhu on the soil of Bangladesh," he said.
Murad Hasan was speaking as the chief guest at a view exchanging meeting held at the conference room of BTV Chattogram Center today after inaugurating the news studio of Bangladesh Television Chattogram Center and inspecting the space allotted for various development projects and BFDC.
BFDC Managing Director Nuzhat Yasmin, BTV Program Director Jagodish Aish, Vice-Chancellor of Chattogram Medical University Prof. Dr. Md. Ismail Hossain Khan, its Deputy Director Dr Bidyut Barua and South District Awami League (AL) General Secretary Mofizur Rahman, among others, attended the function.
"There is no doubt that Khaleda Zia and her son Tarique Rahman were directly involved in the gruesome grenade attack on the AL rally on Bangabandhu Avenue in Dhaka on August 21, 2004," he added.
Terming Zia as the main killer of the father of the nation, Dr Murad said, "Ziaur Rahman is involved in every possible plot to carry out the brutal August 15 assassination."
"Zia's posthumous trial will take place on this earth of Bangladesh. The path of justice will be unveiled to the nation through the law," he added.
"Those who have made a history of murder in this country have been tried under the leadership of Bangabandhu's daughter Sheikh Hasina," he added.
Dr. Md. Murad Hasan questioned Begum Zia whether she did not want justice for her husband's murder. Tarique Rahman is still now hacking conspiracy against the country from foreign soil.
"They are not the children of Bangladesh, they were born in Pakistan. Those who want to see Begum Zia as the Prime Minister again, forget that dream. Those who are doing advocacy in favour of the Zia family should also be careful. Stop brokerage on behalf of the family of the murderer Zia," he added.
He said Bangabandhu's daughter Prime Minister Sheikh Hasina is working tirelessly to take the country forward.
"Bangabandhu gave us a passport. There was no name for Bangladesh. There was no address. There was no existence, Bangabandhu himself has found the address of the nation," he added.
Mentioning that everyone must work hard to take the country forward, the minister said, "I became Murad because of Bangabandhu." I have many responsibilities for the country."
Earlier, the state minister paid homage to the portrait of Bangabandhu with a wreath and planted saplings in the BTV Chattogram center premises.
He later visited a terracotta mural with a history of Bangladesh.
He also visited the shooting spot, television tower, and space allotted for BFDC.