President for joining 'progress march' against all plots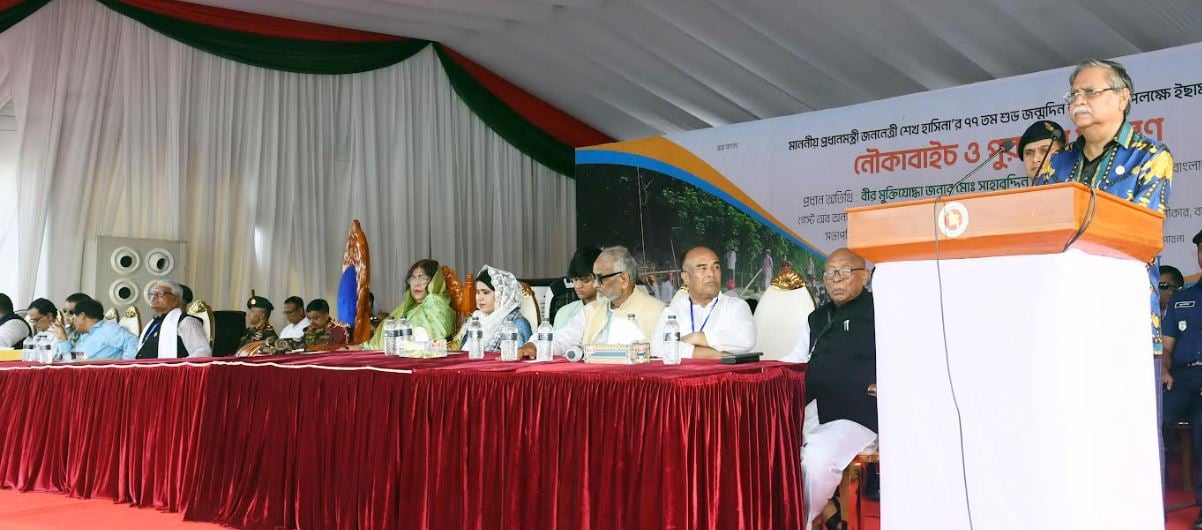 SANTHIA, Pabna, Sept 28, 2023 (BSS) - President Mohammed Shahabuddin today called upon all to resist all conspiracies and move forward towards the ongoing 'March of Development and Progress' designed by Prime Minister Sheikh Hasina.

"Resist all plots . . . Move towards the ongoing march of development and progress," the President told the traditional "Boat Race" prize distribution function in the Ichamati River of the Santhia Upazila here.

The Head of State added: "We will move forward towards progress . . . towards development. The country will move forward braving all conspiracies".

The boat-race was organized marking the Prime Minister Sheikh Hasina's 77th auspicious birthday celebration. President and his spouse Dr Rebecca Sultana along with other family members enjoyed the event.

Deputy Speaker of the Jatiya Sangsad Shamsul Haque Tuku, Nuruzzaman Biswas, MP, of Pabna-4 Constituency, Pabna Zila Parishad Chairman ASM Abdur Rahim Pakon, Pabna district Awami League president Rezaul Rahim Lal, Santhia Municipality Mayor Mahbubul Alam Bachchu and Bera Municipality Mayor Advocate Asif Shams Ranja, among others, were present there.

Referring to the fertile field of Bengali folk-culture like traditional 'boat race' in Pabna district, he put emphasis on finding out the scattered elements of local culture and spread those in different parts of the country with proper treatment.

"There are various elements of culture scattered in different parts of the country . . . Those need to be found and taken care properly," the President added.

Mentioning "Boat" as one of the main vehicles of rural Bangla, he said, the 77th birthday of Prime Minister Sheikh Hasina has added a new dimension to the festival of boating.

A very festive mood prevailed on the two banks of the Ichamati river as huge number of spectators gathered to enjoy the event.

The President said Bengali is a nation of heroism and this independent country was achieved under the charismatic leadership of Father of the Nation Bangabandhu Sheikh Mujibur Rahman, who fought till his death for the political and economic emancipation of his peoples by enduring prison-tyranny and torture.

The Head of the State said, "Even though Bangabandhu is not with us, his ideals are the guide and inspiration for Bangalees to move forward".

Despite various challenges including Corona epidemic and Russia-Ukraine war, Bangladesh is moving forward by facing the negative situation of the economy, the President said.

Construction of Padma Bridge, Metrorail, 3rd Terminal of Hazrat Shahjalal International Airport, Karnaphuli Tunnel, Elevated Expressway and Rooppur Nuclear Power Plant have been completed timely, he said, adding that the people have started getting its benefits.

President Shahabuddin enjoyed the spectacular boat race sitting a riverside dais and thanked the organizers for presenting this Bengali tradition to the people.

Later, the President distributed prizes among the champion and runner-up teams.