Politicians term Sheikh Hasina as flag-bearer of Liberation War spirit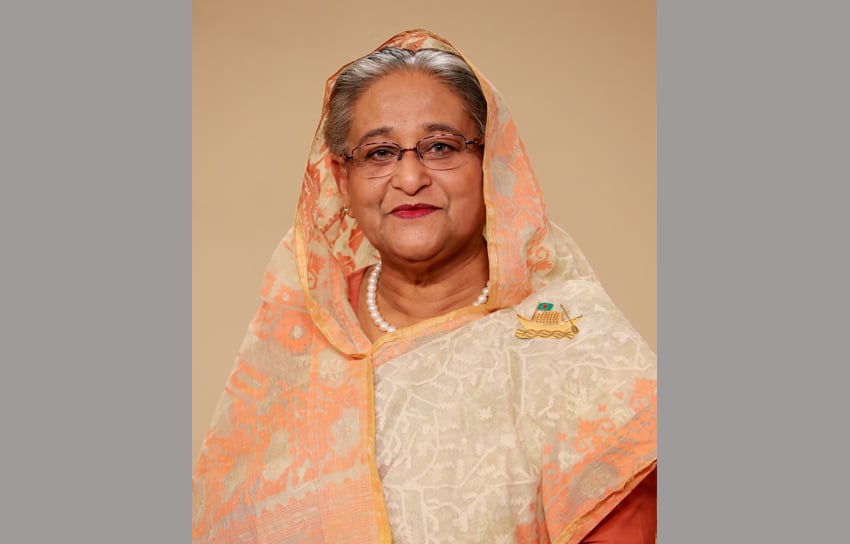 By Maloy Kumar Dutta & Badal Nur

DHAKA, Sept 28, 2023 (BSS) - Bangabandhu's daughter Prime Minister Sheikh Hasina is the flag-bearer of independence and Liberation War spirit as she is spearheading the nation towards a Sonar Bangla as dreamt by the Father of the Nation.

"Sheikh Hasina is the flag-bearer of independence. She has made a remarkable success in running the country," Bangabir Abdul Kader Siddique Bir Uttam, a close aide of Bangabandhu, told BSS on the eve of 77th birthday of Sheikh Hasina.

Dubbing Sheikh Hasina as his sister, a veteran freedom fighter cum politician-Siddique wished a long and successful life to the premier.

Workers Party President and valiant freedom fighter Rashed Khan Menon, MP, said Sheikh Hasina has unique success in running the country as she has been able to build a secular state and make the country solvent and spearheaded the nation in the Liberation War spirit.

She has been making her all-out strides to build a non-communal Bangladesh as dreamt by Father of the Nation Bangabandhu Sheikh Mujibur Rahman, he said.

Jatiya Samajtantrik Dal President and valiant freedom fighter Hasanul Haq Inu, MP, said Sheikh Hasina attained a remarkable success in spearheading the country following the four basic principles of the constitution and spirit of the Liberation War.

After the assassination of Bangabandhu through August 15, 1975 carnage, the then military rulers reversed the country's political course and ran the country in a Pakistani-style, he said.

After 21 years, Sheikh Hasina assumed office in 1996 and since then she has been running the nation in the spirit of the Liberation War and never bowed down to any evil forces.

Noting that Sheikh Hasina attained economic success and eliminated terrorism and militancy in the country, Inu, a key figure of progressive politics and 14-party alliance, said she guided the nation towards development and gave an institutional shape to the legislature.

"If Sheikh Hasina gets the opportunity to run the nation in Liberation War spirit for some more days (several terms), anti-liberation forces, militancy and terrorism will be rooted out forever," he said.
Inu, chairman of parliamentary standing committee on information and broadcasting, wished a long life and sound health of Sheikh Hasina on her birthday.

Valiant freedom fighter Mofazzal Hossain Chowdhury Maya, Bir Bikram, said Sheikh Hasina has won the hearts of the people of this soil with her efficient leadership in successfully guiding the nation towards prosperity.

"She brought back the honor of the freedom fighters and brought 1971 war criminals and killers of Father of the Nation Bangabandhu Sheikh Mujibur Rahman to justice to free the nation from stigma," he said.

People are always safe under Sheikh Hasina's rule, Maya noted.

Echoing Siddique and Maya, Jatiya Party (Manju) secretary general Sheikh Shahidul Islam also said Sheikh Hasina is running the country with utmost efficiency and dynamism to take the nation to its dreamed destination.

She has ensured stability in the country's politics and established social security, he added.

Sheikh Hasina implemented the spirit of the Liberation War and honored the freedom fighters, said Islam, Chhatra League's former president and ex-education minister.

"Sheikh Hasina is the worthy successor of Father of the Nation Bangabandhu Sheikh Mujibur Rahman. The country is moving forward to become a developed nation under her able leadership," he said.

Awami League Presidium Member Dr. Mustafa Jalal Mohiuddin said Sheikh Hasina has taken the country to a dignified status and drawn the attention of global leaders as Bangladesh has become a role model of development in the world under her able leadership.

Following the assassination of Bangabandhu in 1975, Sheikh Hasina, who was elected president of Awami League in her absence in 1981, returned to her motherland on May 17 of that year and later reorganized the party that led the country's Liberation War, he categorically said.

Mohiuddin said after a long struggle for restoring democracy in the country, she came to power for the first time through 1996 general elections 21 years after her father's assassination and now she has been running the country for the fourth term and third consecutive terms.

She is making her all-out strides to establish hunger and poverty free, happy, prosperous, developed Smart Bangladesh.

Abdur Rahman, a member of Awami League Presidium, said Sheikh Hasina has been able to eliminate terrorism and militancy in the country. Once Bangladesh had become a safe haven of terrorism during the BNP-Jamaat led coalition government from 2001-2006, he said.

But after assuming office, Bangabandhu's daughter Sheikh Hasina declared zero tolerance policy against terrorism and now there is no place for any kind of terrorist acts in the country, he mentioned.

She brought smiles on the faces of common people by establishing social security through her massive social safety net programme as well as she ensured houses along with lands to a massive number of homeless and landless people which is a rare example in the world.

In every socio-economic sector, Bangladesh has made unprecedented progress under her leadership as health care, one of the fundamental rights, has been reached at people's doorsteps by establishing community clinics across the country including in remote areas.

Acknowledged the important role community clinics play in promoting primary healthcare, women's empowerment, community engagement and mobilization towards achieving universal access to health, the United Nations unanimously adopted the first-ever resolution on community-based healthcare in May this year.

She set a rare example by sheltering over a million persecuted and forcibly displaced Rohingya population to Bangladesh.

Sheikh Hasina took the Rohingya crisis to global forums where she repeatedly urged the world leadership to resolve the crisis for which the UK-based Channel 4 News in September 2017 first termed Bangladesh Prime Minister Sheikh Hasina as the 'Mother of Humanity'.