Republican hopefuls slam frontrunner 'Donald Duck' for debate no-show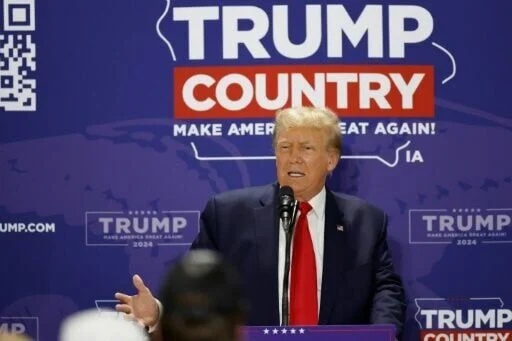 SIMI VALLEY, United States, Sept 28, 2023 (BSS/AFP) - Seven US presidential hopefuls tussled over immigration controls and the economy Wednesday at the second Republican primary debate -- but saved some of their most strident remarks to slam frontrunner Donald Trump for spurning the showdown.
Trump, 77, announced in August he would be skipping the debates, usually a staple of presidential nomination contests, because he has no need to waste time on his distant challengers.
Instead, the populist real estate tycoon, who is battling multiple criminal cases ranging from mishandling state secrets to conspiring to overturn the 2020 election, met auto industry workers in the battleground state of Michigan.
Trump's debate no-show prompted former New Jersey Governor Chris Christie -- the ex-president's biggest antagonist among the candidates -- to accuse Trump of hiding "behind the walls of his golf clubs."
"You're ducking these things, and let me tell you what's going to happen. You keep doing that, no one up here is gonna call you Donald Trump anymore. We're gonna call you a Donald Duck," he said, earning boos for the zinger.
Christie was facing off against Trump's chief rival, Florida Governor Ron DeSantis, as well as political newcomer Vivek Ramaswamy, former UN ambassador Nikki Haley and Trump's vice president Mike Pence.
South Carolina Senator Tim Scott and North Dakota Governor Doug Burgum rounded out the field for the clash at the Ronald Reagan Presidential Foundation and Institute in Simi Valley, California, moderated by Fox Business and Univision.
More than 2,000 miles (3,000 kilometers) away in Michigan, Trump was attempting to boost his blue-collar credentials while dismantling the pro-worker reputation cultivated by President Joe Biden, who visited striking union members in the state on Tuesday.
"Joe Biden claims to be the most pro-union president in history. Nonsense. Think of it. His entire career has been an act of economic treason and union destruction," Trump said.
Underscoring the importance of union workers as a voting base, the first question of the debate was about handling the strike by the United Auto Workers union against automakers General Motors, Ford and Stellantis, now in its second week.
While Ramaswamy voiced sympathy with the workers, Scott made clear his priority was immigration rather than the labor dispute.
"Joe Biden should not be on the picket line. He should be on the southern border, working to close our southern border, because it is unsafe, wide open and insecure," Scott said.
- 'Missing in action' -
Trump's legal troubles have done little to dent his lead, with 59 percent of Republican primary voters in a new NBC News poll making him their top choice, with DeSantis a distant runner-up on 16 percent.
The Trump campaign released a statement ahead of the debate mocking DeSantis and predicting he would "flail around like a bobble head on stage while trying to gaslight voters about President Trump's record."
Despite being the leading candidate onstage, DeSantis wasn't asked a question in the first 16 minutes. When he did get his turn, he took full advantage of the opportunity to take his own swipe at the frontrunner for not showing up.
"Donald Trump is missing in action he should be on this stage tonight," DeSantis said. "He owes it to you, to defend his record, where they added $7.8 trillion to the debt that set the stage for the inflation that we have."
Christie criticized the former president's record on controlling immigration, an issue central to the current deadlock over government funding threatening to shut down the government.
The debate comes with Haley in particular enjoying a moment in the sun, with recent polling indicating she would likely fare best of all the candidates, including Trump, in a head-to-head with Biden.
"My mother who immigrated to this country years ago always says if people break laws entering the country, they won't follow laws when they're in the country," said Haley, who is of Indian heritage.