BNP's rhetoric is like an empty vessel sounds much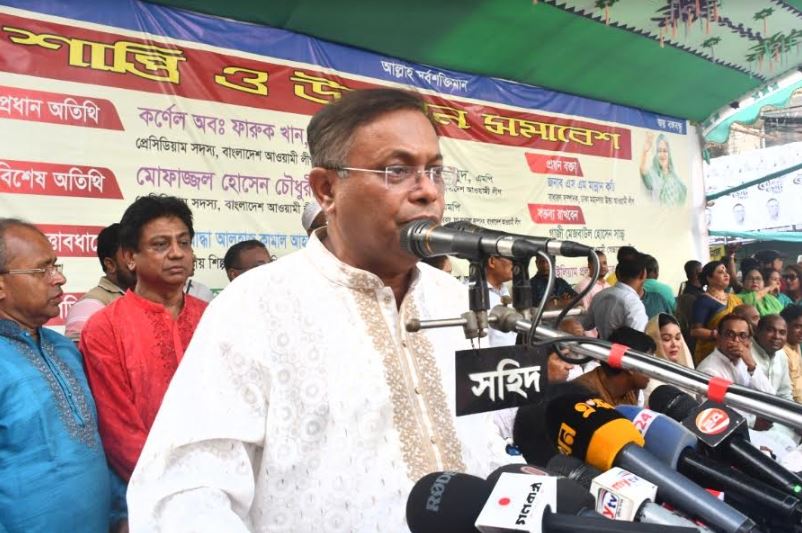 DHAKA, Sept 27, 2023 (BSS) - Information and Broadcasting Minister and Awami League Joint General Secretary Dr Hasan Mahmud today said BNP's rhetoric is like an empty vessel sounds much.

"Prime Minister Sheikh Hasina has formed the government through landslide victory in 2008's election. BNP has claimed that the government will be sustained maximum three months after the 2014's poll. But, we were in government for five years," he said.

He said BNP also claimed that they would topple the government after the 2018 election which means BNP's statement is like empty vessel sounds much.

The minister was addressing a peace and development rally organised by Dhaka city north unit at Mirpur-10 in the capital.

Dr Hasan said BNP leaders have claimed that they would topple the government by seizing Dhaka and Narayanganj. "We also seize BNP, if they want to create anarchy. We will teach them, but we will not beat them up," he added.

About the visa policy, the minister said BNP secretary general Mirza Fakhrul Islam Alamgir has claimed that they movement got speed for the policy. But as per the policy, it will be applicable against those who will obstruct the polls, he added.

He said Mirza Fakhrul doesn't know that the visa policy has also been implemented against some of their leaders also. Had he knew, he would not have said this, he added.

The information minister said the relations between Bangladesh and the US is very good. The US President Joe Biden has taken a selfie with Prime Minister Sheikh Hasina in Delhi and he invited the premier in the dinner in New York, he added.

He said Joe Biden along with his wife has taken a picture with Sheikh Hasina. Pictures talk many things and "we don't have headache about the visa policy", he added.

Dr Hasan said it is the matter of the US to grant a visa or not to anyone. They have had the visa policy for long and they have taken action against different individuals at different time. And it is nothing new, he added.

He said this is the country of Bangabandhu and now his daughter Prime Minister Sheikh Hasina is the leader of the country. She doesn't care any red eyes, he added.

He said Awami League is a party of street and AL President Sheikh Hasina moves the country ahead. AL will form the government again under the leadership of its President Sheikh Hasina through landslide victory, he added.

Dr Hasan urged the BNP to take part in the polls.

AL Presidium Member and former minister Faruque Khan, MP, addressed the meeting as the chief guest with AL North city unit president Sheikh Bazlur Rahman in the chair.

Presidium Members Shahjahan Khan, MP, and Mofazzal Hossain Chowdhury Maya, State Minister for Industries Kamal Ahmed Majumder, AL North city unit general secretary SA Mannan Kachi, Jubo League general secretary Mainul Hossain Nikhil and Swechchhasebak League president Gazi Mazbaul Hossain Sachchu, among others, addressed the meeting.