International Day for Universal Access to Information tomorrow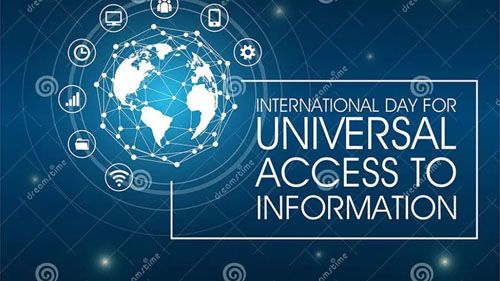 DHAKA, Sept 27, 2023 (BSS) - International Day for Universal Access to
Information will be observed in the country tomorrow like elsewhere across
the globe with the theme 'Importance of internet in free flow of
information'.
On the eve of the day, President Mohammed Shahabuddin and Prime Minister
Sheikh Hasina issued separate messages wishing all programmes of the day a
success.
In his message, the President said the 'Right to Information Act, 2009' was
formulated to ensure the free flow of information and people's right to
information.
"The citizens of the country are now getting access to information by this
act (the RTI act)," he said, adding that the act has created a path for
establishing good governance along with ensuring transparency and
accountability in the activities all government and non-government
organisations.
He said Bangladesh is going ahead to be a Smart Bangladesh from Digital
Bangladesh under the dynamic leadership of Prime Minister Sheikh Hasina and
utilization of ICT in Bangladesh has created an example in the world.
Internet has been playing an important role in ensuring people's access to
information, he added.
Noting that the Information Commission has been working relentlessly to reach
benefits of the RTI Act to the doorsteps of people, the President said,
adding that it is urgent to join all stakeholders including government
entities, electronic and print media in creating awareness among people about
the RTI.
In her message, Prime Minister Sheikh Hasina said Awami League in its
election manifesto in 2008 declared to formulate Right to Information Act and
after coming to power, the government passed the RTI Act, 2009 in the first
session of the ninth Jatiya Sangsad and formed the Information Commission as
per its electoral pledge.
Information Commission (IC) was formed on July 1, 2009 and newly-constructed
IC Bhaban was inaugurated on August 20, 2023, she said, adding: "As a result,
the right of the people and the media to get the necessary information has
been increased."
The premier said: "Apart from Bangladesh Television (BTV), BTV World and
Sangsad Television, we have given permission to 45 private television
channels and 28 FM radio stations and 32 community radio stations to expand
the free flow of information further, which made the publication and
publicity system easier."
"The government has set up world's largest web portal to reach information at
doorstep through increasing the use of internet," she said, adding that the
importance of internet in increasing the use of RTI is undeniable.
With cooperation of the government, the IC has been working relentlessly to
reach the benefits of the RTI to the people, she said, adding that RTI has
been playing role in reducing corruption and establishing good governance
through ensuring accountability and transparency in the activities of all.
"I hope the Information Commission will be more active in establishing 'Sonar
Bangla' as dreamt by Father of the Nation Bangabandhu Sheikh Mujibur Rahman,"
the Premier added.