Young Bangla rolls out seventh edition of Joy Bangla Youth Award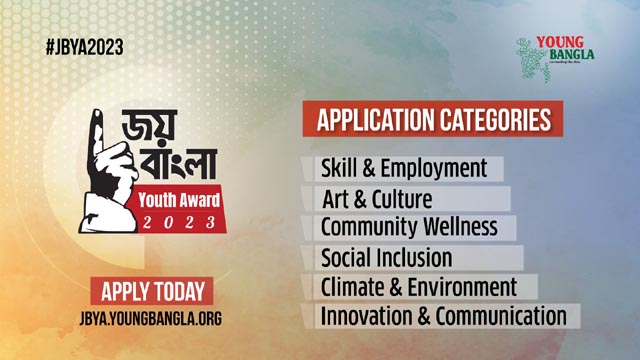 DHAKA, Sept 21, 2023 (BSS) - Is your organisation working tirelessly to raise awareness for women safety and stand for their rights defying social vices including harassment of girls?? Are you, in league with your organization members, taking on the challenge to turn the youths into an effective and skilled manpower??

Does your organization put up efforts to stand for child rights to the break the menace of child labour???

Does your organization operate with the objective to ensure social inclusion of specially challenged people and to uphold their rights??

Is your organization placing efforts at preserving and promoting the rich legacy of cultural heritage???


Young trailblazers already working for the said causes should spare no time and complete registration to vie for the country's most cherished youth award as the application for the seventh edition of Joy Bangla Youth Award has been rolled out.

Youth organisations are eligible to apply under the following six categories: Skill & Employment Art & Culture Community Wellness Social Inclusion Climate & Environment Innovation & Communication.

The organisations should be in existence for a period of no less than a year, while the aspirants running the organizations must be aged between 18 years and 35 years.

The announcement of return of the much awaited award this year after receiving rave responses from youths last year, already triggered warm responses on social media with an encouraging number applied in the first five days of the announcement, according to Young Bangla-the youth secretariat of Centre for Research and Information (CRI).


According to the facebook page of Young Bangla, launched on September 15, the deadline for youth led organizations to register for the award will continue till October 10.

Named after the Liberation War cry "Joy Bangla", this award is geared with a vision to recognise the best youth organisations in Bangladesh for their humanitarian works and contribution to society.

Already becoming popular among youths for a unique approach in conducting a 360 degree search to scour out talents from all across the country, this award has been credited as a "stepping stone" for youths to dream big and become global. A number of awardees later bagged global awards also in different categories.

Following the end of the application window, a rigorous selection process would be put in place with a high octane jury to finalize the top awardees.

Launched in 2015, under the platform Young Bangla, the six editions of JBYA saw as many as 153 youth led organizations honoured, recognized with their stories presented before the nation.

The date of the award ceremony will be announced later.

The platform has so far recognised over 150 organisations and emerged as a hub of over 1,00,000 members, including nearly 20,000 local volunteers.

Applicants can follow the link to apply: http://jbya.youngbangla.org/