Bangladesh, Hungary sign 3 instruments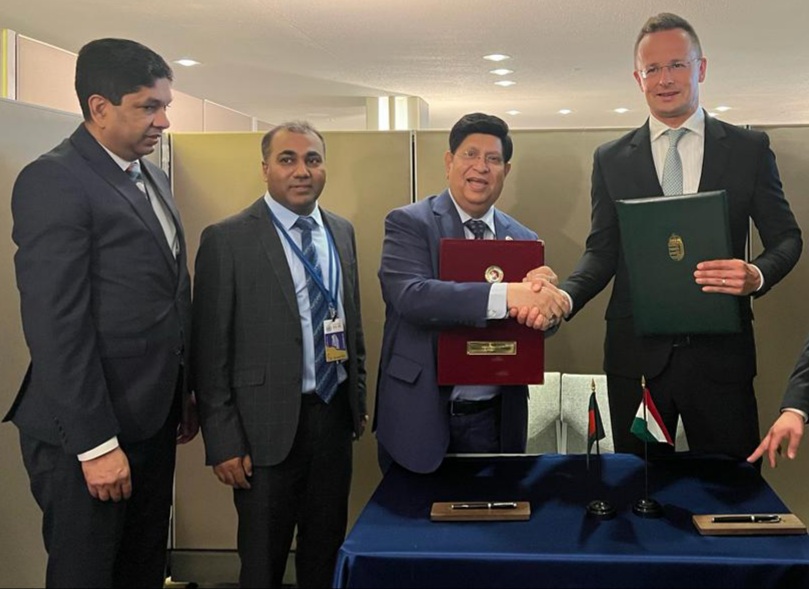 DHAKA, Sept 18, 2023 (BSS) - Bangladesh and Hungary today signed one agreement and two Memorandum of Understandings (MoUs) on economic, education and health cooperation.

Bangladesh foreign minister Dr AK Abdul Momen and Hungarian foreign and commerce minister Peter Szijjarto inked the deals on behalf of their respective side.
The two ministers signed the instruments at a bilateral meeting on the sideline of 78th United Nations General Assembly (UNGA) at the UN headquarters in New York, according to a message received here.
The three instruments are - "Agreement on Economic Cooperation", "MoU on Cooperation within the Framework of Stipendium Hungaricum Programme for the years 2024-2026" and "MoU on Cooperation in the Field of Health for the years 2023-2025".
During the meeting, the two ministers discussed different bilateral issues including food safety, energy security and climate change.

They discussed on proposed visit of Hungarian Prime Minister to Bangladesh and hoped that during the trip three instruments - "Avoidance of Double Taxation", "Agreement on Investment Protection" and "Agreement on Water Cooperation" would be signed between Dhaka and Budapest.
Bangladesh foreign minister sought Hungary's support in repatriation efforts of displaced Rohingyas to their motherland Myanmar.
In reply, Hungarian minister assured that his government would keep pressure on Myanmar to take back Rohingyas from Bangladesh.

While Dr Momen drew attention on easing visa application process for Hungary from Dhaka, the Hungarian minister apprised of his Bangladesh counterpart that Budapest has already taken initiatives in this regards.

The two ministers also underscored for ceasing war in Europe to reduce the suffering of common people across the world.
Bangladesh foreign minister invited his Hungarian counterpart to attend the opening ceremony of Rooppur nuclear power plant in Bangladesh.