80 ponds restored in Sundarbans to meet freshwater demand for wildlife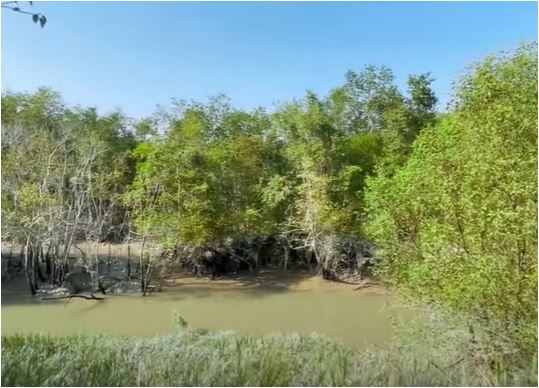 Rafiqul Islam
DHAKA, June 10, 2023 (BSS) – The Forest Department has re-excavated about 80 ponds in the Sundarbans, the country's lone natural habitat for the Bengal Tiger, aiming to ensure freshwater for wildlife.
"We have re-excavated about 80 ponds in the Sundarbans so that wild animals, including tigers, do not face any trouble in finding sweet water," Divisional Forest Officer (Sundarbans West Division) and director of tiger conservation project Director Abu Naser Mohsin told BSS.
In March 2022, the Bangladesh Forest Department initiated a three-year "Sundarbans Tiger Conservation Project" to conserve the Bengal tigers in the mangrove forest. As part of the project, the Forest Department restored the freshwater sources in the Sundarbans.
Mohsin said these ponds are yet to completely fill up with water as there are no enough rains right now. But, once monsoon will start, the ponds will be poured with rainwater, allowing wild animals to have fresh water easily from those reservoirs," he said.

The Sundarbans is the only mangrove forest in the world that supports tigers' habitat. But its ecosystem continues to degrade due to frequent natural disasters and human intervention as well.
Every year, cyclones and storm surges hit the forest, destroying its freshwater sources, which puts wildlife in crisis of drinking water.

Freshwater ponds in the Sundarbans became salinated following Cyclone Amphan flooded most parts of the mangrove forest in 2020.
Besides, drastic fall of water flow in the Sundarbans rivers is also contributing to rapid degradation of mangrove ecosystem. Many rivers and canals dried up in the forest in lack of water flow.
Former chief conservator of forest and former country representative of IUCN Bangladesh Ishtiaq Uddin Ahmad said when freshwater sources, particularly ponds, get contaminated with saline water due to cyclones or storm surges, the wild animals including tigers and monkeys are forced to drink water from these salinated ponds.
He said if the wild animals drink saltwater for quite a long time, they become vulnerable to many diseases causing their immature deaths.
When the wild animals face scarcity of freshwater inside the forest, they are forced to enter localities in search of drinking water, leading to human-wildlife conflicts, he said.

According to the Forest Department, trespass of Sundarban tigers to locality has been increased more than 50 times in the last 15 years, leading to loss of lives due to human-animal conflict.
The Forest Department's data revealed that about 49 tigers died in the Sundarbans from 2001 to 2021.