A cow, a farmer couple and PM: Manifestation of love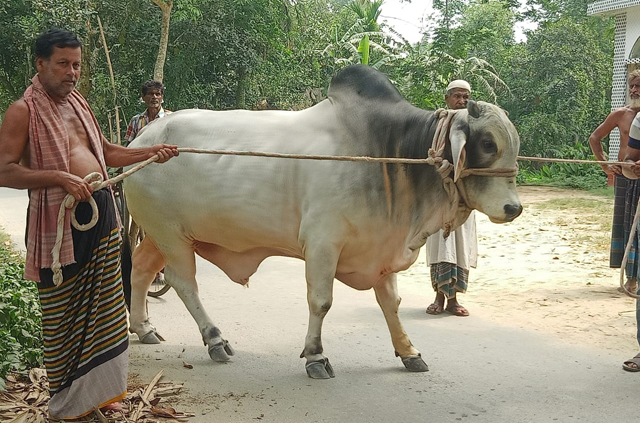 DHAKA, June 10, 2023 (BSS) - Bangladesh Prime Minister overnight received an extra-ordinary gift from an ordinary farmer couple ahead of the Eid-ul-Azha- with the oblation being a cow which they reared for the past three years for Sheikh Hasina.
A PMO spokesman said the emotion-gripped premier agreed to accept the gift last night when she was informed about the farmer couple's oblation for the daughter of Father of the Nation Bangabandhu Sheikh Mujibur Rahman.
Prime Minister's deputy press secretary Hasan Jahid Tusher said Sheikh Hasina was overwhelmed with the farmer couple's gesture and thanked the two -- Bulbul Ahmed and Ishrat Jahan - the residents of Charkauna village at Pakundia Upazila in Kishoreganj district.
According to the PMO official on Friday evening, Prime Minister's special assistant, agriculturist Moshiur Rahman Humayun informed her about the gift.
"The premier, however, wished the cow to remain at the couple's home to be sacrificed there on the day of Eid-Ul-Azha," Tusher said.
He said, Sheikh Hasina also requested the couple to distribute the sacrificial beef among the poor and helpless people in the neighbourhood.
The cow is a cross Brahma breed, which would have approximately 800kg of meat.
Bulbul said, in 2020, he bought this cow from Netrakona district at a cost of Taka 2.50 lakh to gift it to the Prime Minister. After buying the cow, he also swore to donate Taka 5,000 to the famous Pagla Mosque of Kishoreganj district so that his cow would become healthy.
Bulbul Ahmed said that he and his wife Ishrat Jahan bought this cow for the Prime Minister through their small amount of savings along with taking loan from Amar Bari Amar Khamar (My House, My Farm) Project, launched by the Awami League government. They took care of the cow passionately for the last three years.
"We bought and reared this cow out of passion and love for the Prime Minister," he added.
Bulbul Ahmed expressed his gratitude to the Prime Minister for agreeing to accept his cow as a gift.