Falsehood is the only resort to BNP: Quader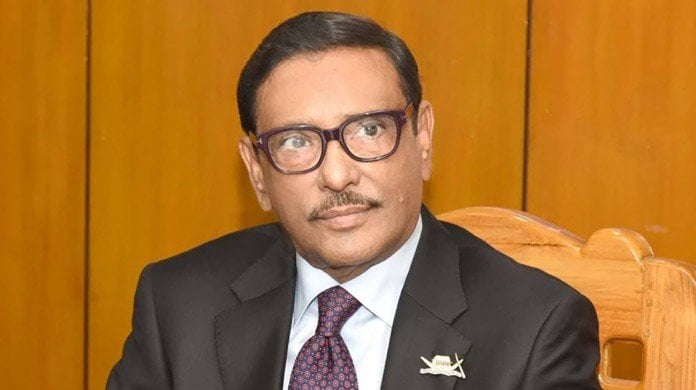 NAOGAON, June 4, 2023 (BSS) - Awami League General Secretary Obaidul Quader today said falsehood is the only resort to BNP as it has nothing to do without complaining to foreigners.
He said BNP secretary general Mirza Fakhrul Islam Alamgir started daydreaming to get back the throne of power but it would not yield any result.
Quader, also the Road Transport and Bridges Minister, made the remarks while speaking as the chief guest at a memorial meeting on late Abdul Jalil, former general secretary of Awami League.
Naogaon district AL organised the meeting on Naujawan ground in the town.
He said BNP leaders went abroad and complained to foreigners about the Awami League and the government but the government's image has steadily improved across the world.
Responding to the Fakhrul's recent statement that 'Azrael' (the angel of death) is chasing the AL leaders, Quader said: "You don't find people, but how did you find Azrael? Mirza Fakhrul dreams while sleeping every night and he daydreams too. He dreams of power and sees the throne".
He said BNP could not wage a mass movement from last December to May this year and it will also not to be able to do so during the next June to November.
The 27-point demand and 54-point of BNP were fake ones as commoners have no connection with this fake party, the AL general secretary said.
About late AL leader Abdul Jalil, Quader said Abdul Jalil loved Naogaon and its people till the last day of his life.
"He (Jalal) worked for the development of Naogaon. It is difficult to find a person, who loved works, like him in history. He was a trusted one of AL President Prime Minister Sheikh Hasina. He did not compromise with corruption and injustice. He upheld up the AL's flag in difficult times," he said.
AL organising secretary SM Kamal Hossain, food minister and Naogaon district AL general secretary Sadhan Chandra Majumdar, AL health and population affairs secretary Dr Rokeya Sultana, Shahiduzzaman Sarkar, MP, Barrister Nizam Uddin Jalil John, MP, Chalim Uddin Tarafdar Selim, MP, and Anwar Hossain Helal, MP, also spoke.
Earlier, Quader paid tributes to late Abdul Jalil's grave in Chakprana area of Naogaon city.
Besides, he inaugurated the newly-built district AL office at Sarishahati junction in the town.