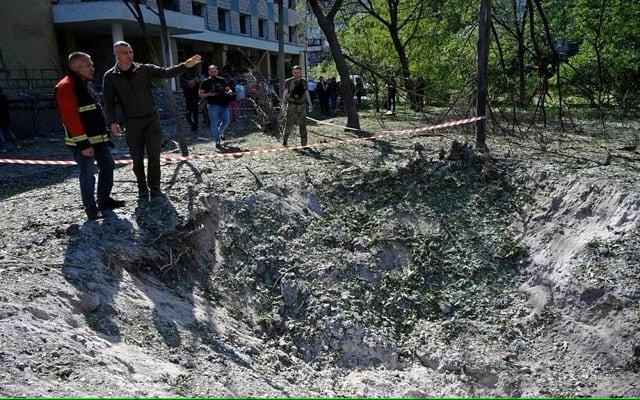 MOSCOW, June 2, 2023 (BSS/AFP) - Moscow said Thursday it thwarted a Ukrainian
attempt to penetrate its southwestern border as it pounded Kyiv with
missiles, killing three including a child.
The Ukrainian capital faced nearly nightly air raids throughout last month.
As Kyiv deployed its air defences against a fresh volley of Russian missiles,
Moscow said it pushed back an attempt by Ukrainian troops to invade its
southwestern Belgorod region at about 3:00 am (0000 GMT).
"Overall, the attack involved up to 70 militants, five tanks, four armoured
vehicles, seven pickup trucks and a Kamaz truck," the Russian defence
ministry said in the evening, reporting at least three attempted crossings.
It said it used air force and artillery to repel the attacks, killing more
than 50 Ukrainian fighters.
The Belgorod region, which saw an unprecedented two-day armed incursion last
week, has come under intensified fire in recent days.
Regional governor Vyacheslav Gladkov said 12 people had been wounded in the
previous 24 hours in the district of Shebekino, whose residents poured into
centres for displaced people in Belgorod city.
"There are many families with children, including infants and disabled
people. We will try to provide them with as much care as possible," Belgorod
mayor Valentin Demidov said.
Two people were wounded in the city when a drone crashed near a petrol
station, Demidov said.
- 'Not a single word' -
Kremlin spokesman Dmitry Peskov said President Vladimir Putin was being
constantly informed of the situation.
"The main question now is to provide assistance to people and support
resettlement for those who need it," he added.
Peskov also denounced the silence from the international community over the
strikes.
Despite "every opportunity to see the footage describing strikes on
residential buildings, social infrastructure... there is not a single word
criticising Kyiv," Peskov said.

Russia has seen repeated attacks on its soil, with a drone attack in Moscow
last week.
After at least eight drones were used in that attack, the Russian foreign
ministry accused the West of "pushing the Ukrainian leadership towards
increasingly reckless acts".
Ukraine has denied "direct involvement".
Separately, Russia's air defences shot down several Ukrainian drones near the
city of Kursk, the regional governor said early Friday.
"We ask the residents of Kursk to remain calm, the city is under the reliable
protection of our army," Roman Starovoyt said on Telegram.
The wider Kursk region, which like Belgorod borders Ukraine, has been
regularly bombarded by Kyiv's forces since the conflict broke out.
- 'Screams and dust' -
Moscow's latest attack on Kyiv began just before 3:00 am local time when
missiles were fired from Russia's Bryansk region.
Ukraine's air force said it intercepted and destroyed all 10 missiles.
Three people, including a nine-year-old child, were killed in Kyiv's
northeastern Desnyanskyi district as a result of falling rocket fragments.
Another 16 people were wounded.
The husband of one of the victims, Yaroslav Ryabchuk, said the shelter where
they routinely hid from Russian strikes was closed on Thursday, and he ran to
seek help.
"When I came back, there was a lot of blood, children and women were lying
there. There were screams and dust," he told AFP.
"Nothing matters anymore," he said, adding his children have been "left
without a mother".
Kyiv mayor Vitali Klitschko confirmed the three people were killed when a
fragment of a rocket fell close to a clinic as they ran for cover after an
air raid alert.
"A closed shelter in wartime is not just indifference, it is a crime," said
Interior Minister Igor Klymenko, adding that an investigation had been
opened.
In a press conference in Moldova, Ukrainian President Volodymyr Zelensky said
people would be "held responsible" for the closed shelter.
Moscow says it only targets military installations in Ukraine.
- Grain export slowdown -
Meanwhile, the UN secretary-general's office on Thursday expressed concern
over a drop in Ukrainian grain exports across the Black Sea, citing the
"specter of food inflation".
A crucial agreement allowing the grain to reach the global market was renewed
again in May but for only two months.
"We are concerned about the continuous slowdown of the implementation of the
Black Sea Initiative," said Stephane Dujarric, spokesperson for UN Secretary-
General Antonio Guterres.
"In May, 33 vessels departed Ukrainian ports, half of the number compared to
April."
He linked part of the slowdown to Russian demands that its own exports of
fertiliser components be freed up despite strict sanctions.