Caretaker govt's demand an "obstruction" of free, fair polls: Shahriar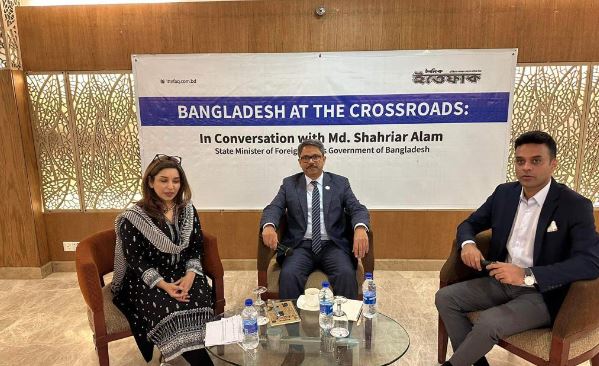 DHAKA, May 31, 2023 (BSS) - State minister for foreign affairs Md Shahriar Alam today said the demand of caretaker government pressing home by BNP is an "obstruction" of free and fair election as such act stands against the present constitution.

"Such (caretaker govt) demand by BNP itself goes on to qualify as an "obstruction" of free and fair election," he said.
The state minister was speaking at an interaction session titled "Bangladesh at the Crossroads" hosted by the Daily Ittefaq at a city hotel.
The Daily Ittefaq Executive Director and Publisher Tareen Hossain delivered welcome remarks.
Shahriar Alam said the demand for caretaker government is an "illegitimate demand" in line with the constitution as the verdict passed on by the judges.
The state minister hoped that the United States would take note of the threats being passed by leaders of BNP to obstruct elections as per the constitution.
"There are speeches, comments and commentaries passed on by the BNP threatening that police officers, administration, electoral officials whoever will participate in the election will be dealt with. That's a serious threat. I hope the US is taking good note of that," he said.
Responding to a query, he said there is no reason to see new sanctions and the government is absolutely not under any foreign pressure from anywhere.
Alam said Prime Minister Sheikh Hasina is the daughter of Father of the Nation Bangabandhu Sheikh Mujibur Rahman. "That is her pride and that is what drives her. Please do some justice to this legacy and do not invite such weaker observations (foreign pressure)," he added.
Regarding Bangladesh-US tie, the state minister said, the relation has deepened and broadened to such length that allows the two countries to frankly debate on the differences.
He said the long-pending repatriation of Bangabandhu's convicted killer Rashed Chowdhury from the USA remains a source of irritation for Dhaka in its relation with Washington.