BR to sell advance train tickets for Eid online from June 14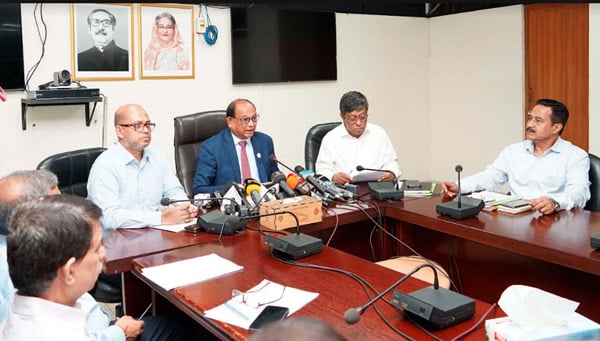 DHAKA, May 30, 2023 (BSS) - The online sale of all advance train tickets ahead of the upcoming Eid-ul-Azha will begin from June 14.
"All advance tickets for the journey on the occasion of the holy Eid-ul-Azha will be sold online like Eid-ul-Fitr from June 14," said Railways Minister Md Nurul Islam Sujan.
Speaking at a press briefing at his ministry conference room here today, he said all tickets will be sold in two phases.
Railways Secretary Dr Humayun Kabir, Director General of Bangladesh Railway Kamrul Ahsan and officials concerned were present at the briefing.
The minister said all tickets for western zone bound intercity trains will be available on online from 8am on June 14, while passengers will get tickets on online for eastern zone bound intercity trains from 12 noon on the same day.
The Bangladesh Railway will operate eight pairs of special trains in different routes on the occasion of the Eid-ul-Azha, Sujan added.

The railways ministry has decided to operate one pair of new intercity trains on the occasion of the Eid on Dhaka-Chilahati route, he said, adding, "Prime Minister Sheikh Hasina will inaugurate the first operation of the train on June 4 virtually."
According to the ministry decision, passengers can purchase the advance tickets 10 days ahead of the Eid. Earlier, the advance tickets were usually sold before 5 days ahead of the Eid. But none will be allowed to refund Eid advance tickets.
Passengers will be able to purchase the tickets for June 24, 25, 26, 27 and 28 on June 14, 15, 16, 17 and 18 respectively, according to the ministry decision.

On the other hand, the return tickets of July 2-6 will be sold from June 22 to 26.
The ministry also decided to sale 25 percent standing tickets against the total seats. The standing tickets will be available from Dhaka, Dhaka Cantonment, Airport Station and Joydebpur station. About 29,000 tickets with seat will be sold on the occasion of the Eid-ul-Azha.
"To maintain smooth activities at Kamalapur Station, we will operate three pairs of special trains from Dhaka Cantonment station," the minister said.