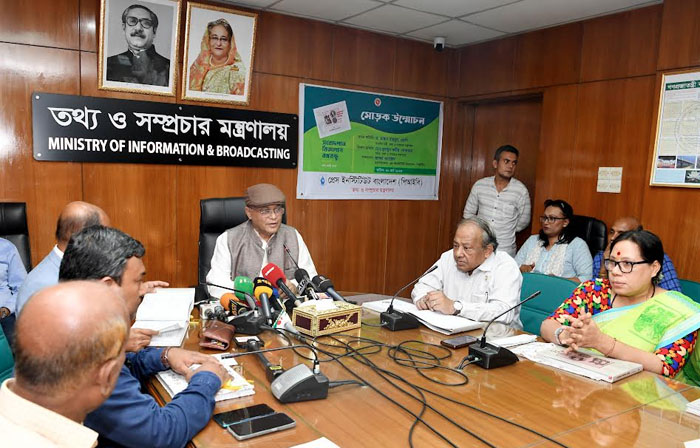 DHAKA, March 30, 2023 (BSS) - Information and Broadcasting Minister Dr Hasan Mahmud today raised question whether dishonouring the country's independence by writing lies using the name of a child in exchange of TK 10 is a crime or not.
"It is like publishing the news on Basanti's net wearing," he said.
"Is not it a crime to eyebeam the independence by writing falsehood using the name of a child offering him TK 10? It is almost identical to publishing fake news on Basanti's wearing a net," he told journalists after unwrapping a book titled 'Bangabandhu in Newspaper Advertisements' published by Press Institute of Bangladesh (PIB) at the conference room of his ministry in the secretariat.
He raised the question responding to journalists' query about a news story published on Prothom Alo's online edition and later posted on its Facebook page on the Independence Day.
Additional Secretary of the Information and Broadcasting Ministry Md Faruque Ahmed, PIB Director General Zafar Wazed and writer and researcher Papi Debi Thapa were present on the occasion, among others.
The journalists also asked the minister about the trials of arranging musical function centring Meril-Prothom Alo award function on the day of collapsing Rana Plaza that killed hundreds of people in 2013, death of a schoolboy by electrification at a Prothom Alo programme at Dhaka Residential Model College compound in the city and ridiculing the Independence by writing falsehood in the name of a child on the Independence Day.
Replying to those questions, Dr Hasan, also Awami League joint general secretary, said, "I would like to ask you that publishing a report on the Independence Day ridiculing the Independence, trying to force a child to make comments in exchange of TK 10 and later writing fake comments in the name of the kid . . . doesn't it go against the ethics of journalism? Therefore, it (the news of Prothom Alo) is facing strong criticism".
They (Prothom Alo authority) withdrew the news afterwards as they could realize that it was not correct, he said, adding but the screenshots of the news were saved in different domains and shared by many people, which are still available and rolling in the social media.

In this context, aggrieved persons have filed cases and the relevant journalist has also been arrested, the AL joint general secretary said, adding, "Everything will come out following the police investigation and the law will go on its own course".
Before Bangabandhu's assassination, Basanti was photographed wearing a net and it was published, Dr Hasan said, adding that at that time, the price of net was higher than the price of clothe and still the price of net is very high.

"But Basanti was deliberately photographed with net on her body and that was published. Many people are terming the news of Prothom Alo on March 26 like putting a net on Basanti's body. According people from all strata, this kind of falsehood against the state, society, independence is a crime, a digital crime," he said.
Noting that crime and journalism are not same things, the minister said, "Will he not be punished if a journalist commits a crime? If someone does bad journalism, ridicule the independence and gives Taka 10 to a boy and writes lies in his name, exploiting a child, won't it be prosecuted? Anyone of us is above justice, above the law? It is not!"
Replying to another query regarding BNP's statement about the incident, Dr Hasan said it is nothing other than BNP's ill effort to give statement centering anything they find.
"Like the freedom of expression in Bangladesh is not found in many developing countries. If you talk about the Digital Security Act, it is meant to provide digital security to all people of the country, and also to provide digital security to journalists," he added.
Many journalists have also filed cases using the Digital Security Act, the minister said, adding that a few days ago, a woman journalist filed a case against another journalist in charge of character assassination from abroad.
Referring to digital security acts in different countries across the globe, Dr Hasan said, "Such kind of laws have been enacted in different countries across the world. Cyber Security Laws and Regulations 2022 in the United Kingdom, Cyber Law and Punishment in the United States and similar laws are in operation in many countries across the world".
In the United States, punishment for this type of crime is 20 years in prison, he said, adding that if someone dies because of spreading rumors through digital media, the punishment for that digital crime is life imprisonment.
"Digital security laws in the US and many other countries are much tougher than ours," the AL joint general secretary said.
This incident has hurt the foundation of the state and insulted the independence by lying, he said, adding, "On Independence Day, a boy was lured with Taka 10 to provoke him to say something in front of the National Memorial, which is a symbol of our freedom; and what he didn't say was publicized. They removed it as it wasn't right. So the state has definitely been hit here".
Earlier, speaking at the unwrapping ceremony of the book 'Bangabandhu in Newspapers Advertisements', Dr Hasan thanked the PIB authorities for publishing the book with a compilation of advertisements published in newspapers highlighting Bangabandhu's works and supporting his movements between 1971 and 1975 .
"I hope everyone will be able to know much more untold information about Father of the Nation Bangabandhu Sheikh Mujibur Rahman through this book. These words would have been lost if this compilation would have not been published," he said.
It is an extraordinary publication with the collection of advertisements with photographs of Bangabandhu published in support of Bangabandhu's 6-point, independence movement even before independence, the minister added.