IOC Regional Committee for Ocean meet begins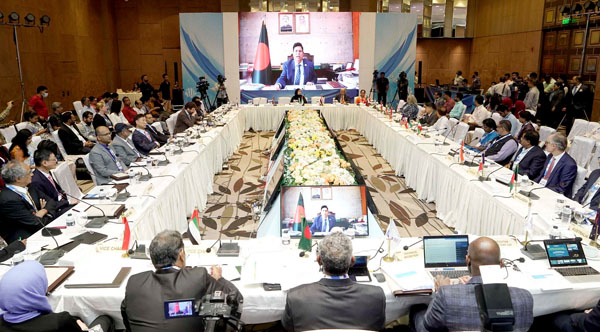 DHAKA, March 28, 2023 (BSS) - The 9th Intergovernmental Session of the IOC Regional Committee for the Central Indian Ocean (IOCINDIO-IX) began here today with a call for strengthening cooperation in conducting marine science researches, taking projects and maritime observation and information management for mutual benefits of the member states.
As a host country, Bangladesh Foreign Minister Dr AKM Abdul Momen inaugurated the three-day session through a video message at the Hotel Inter Continental, said a media release.
Representatives of 14 member states - Bangladesh, France, India, Indonesia, Iran, Kuwait, Malaysia, Pakistan, Qatar, Sri Lanka, the United Arab Emirates, Maldives, Saudi Arab and Yemen are taking part in the session.
Independent observers and representatives from IOC UNESCO secretariat, Indian Ocean commission and the World Bank are also taking part in this year's session.
Highlighting the importance of Indian Ocean for connectivity, peace and prosperity in his opening speech, foreign minister Dr AKM Abdul Momen laid emphasis on enhancing the regional capacity considering the specific interests and priorities of the member states.
The foreign minister assured that Bangladesh would extend all-out efforts for turning the IOC regional committee into a sub-commission.
In the first day session, Bangladesh foreign ministry's maritime affairs unit secretary Rear Admiral Md Khurshed Alam and Intergovernmental Oceanographic Commission (IOC) executive secretary Vladimir Ryabinin, Mr. Ariel Hern n Troisi, International Seabed Authority (ISA) secretary general Michael W. Lodge and IOCAFRICA President Prof. AFFIAN Kouadio joined the session through video message.
The session will focus on a list of important issues such as IOCINDIO's priority programmes-projects, and recent developments, various programmes of 2021-23, blue economy, marine biodiversity preservation, marine ecosystem and human health, UN Decade of Ocean Science, future activities of IOCINDIO and 2023-2025 budget.