PM determined to build Smart Bangladesh by 2041: Speaker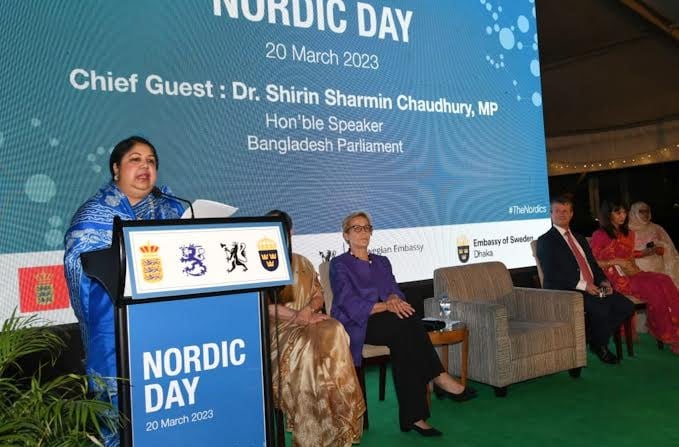 DHAKA, March 21, 2023 (BSS) - Speaker of the Jatiya Sangsad Dr Shirin Sharmim
Chaudhury has said Prime Minister Sheikh Hasina is marching forward for building a smart Bangladesh by 2041.
"Prime Minister Sheikh Hasina is progressing amid expressing strong
commitment for building smart Bangladesh through Information Technology,
practice of knowledge and science and inclusive economic development by 2041", she said.
Dr Shirin Sharmin said as the chief guest while attending a programme titled
'Nordic Day-2023' jointly organized by embassies of Denmark, Norway, Finland
and Sweden in Bangladesh at Radisson Blue Water Garden hotel here on Monday.
Royal Norwegian Ambassador to Bangladesh Espen Rikter-Svendsen, Swedish
Ambassador Alexandra Berg von Linde, Danish Ambassador to Bangladesh, HE Ms.
Winnie Estrup Petersen and Ambassador of Finland to Bangladesh Ritva Koukku-
Ronde, among others, attended the function.

Seeking cooperation from the Nordic countries, the Speaker said, "We need
assistance from the Nordic countries for safely repatriation of the Rohingyas
from Bangladesh as excellent relations and necessary development aid are
already being exists between Bangladesh and the Nordic countries".
Even the peoples of Bangladesh are always remember the Nordic countries
cooperation which had been extended on the way to fulfill the target of the
Independence achieved under the leadership of Father of the Nation
Bangabandhu Sheikh Mujibur Rahman.
Noting the diplomatic relations with Nordic countries, the Jatiya Sangsad
Speaker said Bangladesh is celebrating the 50 years of diplomatic relations
with the Nordic countries, saying that the relations need to be more
strengthen and sustainable as develop partner of the Nordic countries.
Noted diplomats, elite personalities, invited guests and representatives from
Mass media were also attended at the function.